I

f you've ever used a card or badge to enter your work building or apartment, there's a high probability you've used an HID smart card and reader.
"That is the traditional bread and butter of HID's business," says Mark Camero, the company's vice president of legal and general counsel.
It's not the only line of work in which HID Global works, however. Founded in 1991, the Austin, Texas-based international security company boasts more than three thousand employees and operations in more than a hundred countries, providing products and solutions for trusted identities, including secure physical access, network logins, asset tracking, and cloud-security resources. HID's parent company, Sweden-based ASSA ABLOY, is an international door-opening solutions manufacturer that employs more than forty-seven thousand people.
"We are their high-tech arm," Camero says.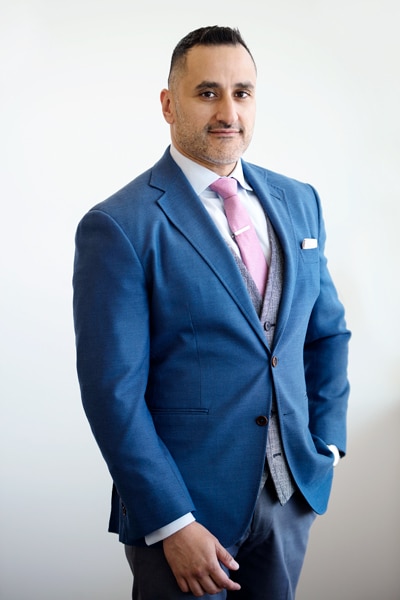 Originally, HID was the acronym for Hughes Identification Device, a subsidiary of the Hughes Aircraft Company, founded by famed aviator, manufacturer, and movie producer and director Howard Hughes. Hughes used radiofrequency identification technologies to keep track of his aviation parts within warehouses.
Over the years, though, HID expanded through acquisitions and gradually aligned itself into six business units. Since Camero joined in late 2016, he's been helping bridge the gaps between these units to help lower legal risk as they've reached into new services, solutions, and geographical areas. HID's software is increasingly cloud-services based, for example, and instead of just letting certain people into certain rooms or buildings, the company now has to be very strict with privacy concerns and how personal information is used and stored.
"That is at the core of what we do," Camero says. "With respect to whatever you are opening—whether it is a door to access a facility or a room, logging on to your computer, or accessing a file—our software and services are critical. We have advanced with mobile access—using your phone to open a door—and now we are moving forward with area governance, based on location-services technology."
However, at the same time, Camero has been tackling an even broader concern: "How do I get legal involved with a business that really was never used to having a legal department in the first place?" he asks.
His strategy was to look within the company and maximize the existing talent, promoting several employees to attorney positions. In his first two years with HID, Camero's legal team has gone from just two people (one of whom was himself) to a group of thirteen based all around the world. Camero describes the team as "top-shelf," with sophisticated technology backgrounds, meaning they can offer better legal services to HID.
The department's current focus is complying with China's new Cybersecurity Law, enacted on June 1, 2017. HID's operations in China are about network operability and remaining compliant with the country's regulations regarding how data is sent in and out of the country (including what can be sent, how it is processed, and how it is logged).
HID's legal team faced a similar task when working to comply with Europe's General Data Protection Regulation (GDPR). For that effort, HID hired a data-privacy manager and created a data-privacy team to develop the framework procedures that are now implemented in other regions to stay compliant with federal, state, and other regulatory policies. "As a trusted identity company, that is something we can never compromise on," Camero says.
To continuously meet these goals in line with CEO Stefan Widing's expectations, Camero has bolstered HID's legal team with quality paralegals and compliance and data-privacy professionals. New talent must possess sophisticated knowledge of cloud-based solutions, software-and-services agreements, and licensing and a general understanding of commercial technologies.
"As the world gets digital, lawyers need to get digital as well," Camero says, adding that they should specifically engage in the digital business environment, participate in CLE trainings and transactions, and get involved in the legal community.
Being a part of Camero's team is about being self-motivated, hardworking, and solutions oriented, as he is. Camero grew up in a lower-income neighborhood of Chicago and put himself through law school at DePaul University while also working a full-time job. During those lean college years, he developed an appreciation for hard work, which now informs his leadership style. He says he's a hands-off manager, though, allowing flexibility into his team's schedule and not micromanaging them.
"My point as a manager is to give them the tools, the resources, and the assurance that they need to progress in their careers," Camero says. "I know the business leaders have had nothing but fantastic things to say about my team. Quite frankly, that's the best compliment that I could ever be paid, and I am beyond pleased with the success that we've had so far."
---
DLA Piper UK LLP:
"Mark is a force to be reckoned with, a brilliant lawyer, energetic, bright, quick, strategic, and forward thinking. It is a real pleasure and honor to work with Mark as outside counsel."
—Burkhard Fuehrmeyer, Partner / Annemarie Bloss, Counsel