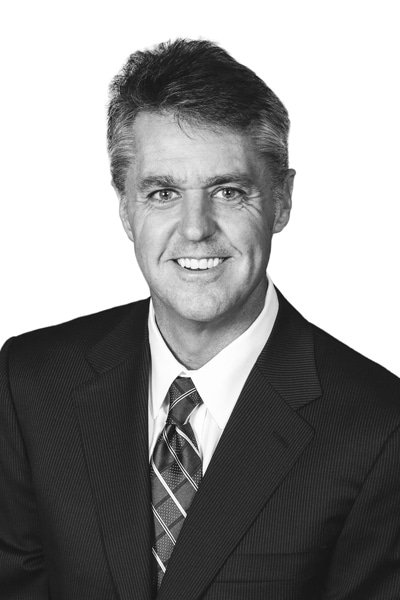 Lockton is the world's largest privately owned, independent insurance brokerage firm. Founded in 1966 in Kansas City, Missouri, it now employs more than 6,500 professionals who provide 50,000 clients around the world with consulting services in the areas of risk management, insurance, and employee benefits. And yet, the company never had a general counsel until 2000. That's when Trey Humphrey joined the company.
As director, executive vice president, and group general counsel, he has helped build Lockton into the ninth-largest insurance broker overall and get it recognized as a "Best Place to Work in Insurance" by Business Insurance for nine consecutive years. Here's a step-by-step look at how he came to be at Lockton and how he helped facilitate its expansion.
1. Arriving at Lockton
Born and raised in Kansas City, Humphrey studied at the University of Kansas before earning his JD at the University of Missouri-Kansas City. "I needed to work through school, and that was much more of an option in Kansas City than in a college town," he says. "I had clerical jobs in law firms in my first and second years of law school."
Afterward, he went into private practice for ten years, first with a small firm of about forty lawyers, from 1990–98, and then with a larger and more regional firm. One of his clients was Lockton. "The COO at the time, Mike Frost, gave us work, which was by its nature lumpy and nonrecurring, on the same basis—as a nonrecurring expense," he says.
Eventually Frost—and then Lockton CEO John Lumelleau—made the decision that it would make sense to have a general counsel in house. "Visionary may be overstating it, but Mike, John, Chairman David Lockton, and the Lockton family could tell what the future was going to hold," Humphrey says.
The industry was consolidating, and with so many publicly traded companies in the field, being private offered "a different and unique business model," he explains. "We can take the longer-term view and make our associates and our clients the center of the universe, as opposed to shareholders and quarterly earnings expectations. We think that gives us a significant competitive advantage over our public competitors."
2. Acclimating to an Atmosphere Built on Consensus
Frost and Lumelleau knew Humphrey would be a good fit culturally. "We are such a decentralized organization, with real autonomy at the operations level," Humphrey says. "We collectively develop corporate policy and practices that the GC oversees; top-down management doesn't work here. If I have any skill, it is that I am pretty effective at consensus building. I involve people early to make sure they understand why things might need to be a certain way. I truly get our strategy, and I am fortunate enough to be able to contribute to the development and implementation of our strategy. It all starts with hiring the best people and being the best place to work, and keeping the interests of our clients at the center of our universe. If we achieve these goals, everything else, including success for Lockton, will fall into place."
3. Finding a Free-Minded Legal Team 
Because the legal department runs "pretty lean," Humphrey says, it relies a great deal on outside counsel. "That means we look for people who can manage a wide array of different matters and outside counsel, essentially through triage and oversight," he says. "It is about recognizing the business imperative and keeping an eye on the big picture."
He looks for people who can think on their feet because many lawyers, he says, are more comfortable in a top-down, command-and-control environment. "We are not that," he explains. "We don't have the time or the resources to be able to wait for an assignment. You need to see the next task and go do it. At same time, you need to know when to say, 'I am way over my skis here,' and seek expert guidance, often from outside counsel or other subject-matter experts."
To find the right candidates, Humphrey and Lockton do a fairly exhaustive evaluation. "When bringing somebody on, we are very thoughtful about it," he says. "It is a small team, and we don't have the luxury of bringing people on who we aren't confident will be able to make it. I am not saying everyone has always succeeded, but our hit ratio is high."
And, the company's structure means that there are also great opportunities for development. "We are, in my view, one of the best options for people who want to work in an entrepreneurial culture, not a top-down culture," Humphrey says. "They can thrive here in ways they couldn't imagine at previous employers."
"Trey himself is a perfect example of that," says Mike Margolis, partner at Blank Rome LLP, which has worked with Lockton for twenty years. "Trey long ago stretched past just giving fine legal advice into helping to shape Lockton's business strategy—and discovered that he excels at it."
4. Managing Acquisitions by Delegating
While Lockton continues to see significant organic growth through its core businesses, it is always looking for opportunities to also grow through strategic acquisitions. Humphrey and his team work shoulder to shoulder with the executives who identify these new opportunities. "We are intimately involved in structuring the design of new acquisitions," he says. "Then, we negotiate around that design and oversee the completion of the acquisition with the assistance of outside counsel."
5. Expanding in the Right Markets
Lockton currently has about 3 percent of the US market and a bit less than that in the UK, its second-largest market, Humphrey says. By growing its core business and acquiring in certain specialty verticals, including energy, marine, and employee benefits, the company believes it can capture market share at a greater rate.
"As a private company, we are rarely going to succeed in an auction process where the seller is looking only for the highest payday," Humphrey explains. "We need to find people who may want to take some chips off the table but also want to find a culture and an ecosystem where they can do even better going forward."
He credits Frost, who retired in 2016; Lumelleau, who retired earlier this year; and, most importantly, David Lockton and the Lockton family with the vision that has led to the company's growth. "They all saw this coming," he says. "When I joined, we had $100 million in revenue, with six offices, all in the US. This year [2017], we should eclipse $1.5 billion, with eighty-five offices in twenty-six different countries. They were right."
---
Expertise Spotlight
Blank Rome is one of the fastest-growing large law firms in the United States. In 2017, the firm broke into the Global 100. One driver of its growth is that it pays close attention to its clients and learns from them. Lockton, for example, has taught Blank Rome that an engaged and empowered workforce will constantly innovate to improve service.
 Blank Rome is a full-service, middle-market firm whose high quality has been recognized by all the leading law firm rankings. The firm focuses on the industry sectors of energy, maritime and transportation, real estate, financial services, healthcare and life sciences, chemical, gaming, technology, and manufacturing. It handles the full spectrum of legal matters, including litigation; M&A and securities; finance, business restructuring, and bankruptcy; cybersecurity and data privacy; environment and mass torts; government contracts; insurance recovery; intellectual property; labor and employment; international trade; matrimonial and family law; policy and political law; tax and benefits; and white-collar defense and investigations.
 Blank Rome's clients range from serial entrepreneurs and start-ups to Fortune 500 companies, from nonprofit institutions to governments, and from privately owned companies to some of China's largest state-owned enterprises. It also is a recognized industry leader in providing pro bono services to those in need.