When Kimberly Gannon was a child, her mother foresaw potential in a specific career path. "My mother told me I should be an attorney, because I didn't like taking no for an answer," Gannon recalls. Following her advice, Gannon majored in finance and pre-law, earned her JD from Widener University, clerked for a superior court judge in Delaware, and worked as a litigation associate at two Philadelphia law firms.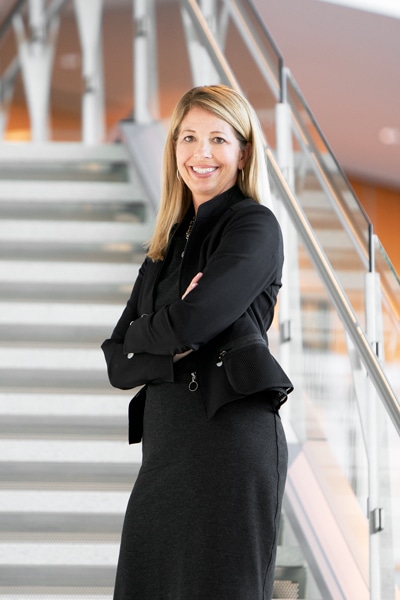 Litigation wasn't her passion, though. "I liked the blending of finance and law that you find in corporate transactional work," Gannon explains. "So when an opportunity opened up for a compliance attorney at Edward Jones, I jumped at it." She arrived at the trillion-dollar financial services firm in June 1997, and has been there ever since.
"The work attracted me, but the culture is why I've stayed," Gannon says. The Fortune 400 firm is a partnership – i.e., owned by current and former employees. Today, Edward Jones comprises about forty-five thousand employees in the United States and Canada and serves more than seven million clients—primarily individual investors and business owners.
"We don't have the pressure of quarterly earnings or shareholder concerns," Gannon explains. "We focus on our clients and emphasize long-term relationships, both internally and externally. It's so different from most other corporate environments. I loved it as soon as I got here."
She's not the only one. The company earned the fifth spot on the 2018 Best Places to Work list and the third spot on the 2017 Best Workplaces for Women list. The surveys, by Fortune and the Great Place to Work organization, are based on employee ratings of top executives, compensation, fairness, camaraderie, and innovation.
For the past ten years, the firm has also received the highest ranking in J.D. Power's annual survey that asks financial advisors to rate their firms in terms of client support, leadership, professional development, and technology.
Cultivating a high level of employee satisfaction certainly has contributed to the firm's enduring success. Based in Des Peres, Missouri, Edward Jones was founded in 1922 and has since grown into an industry leader of retirement, wealth management, and insurance solutions.
One of the ways the firm puts professional development into action is through the frequent reassignment of employees. "The firm sees this as a great way for us to learn about and contribute to different areas of the organization," Gannon says. "It works beautifully and makes us more conscious and respectful of what our teammates do."
Gannon's first position at the firm was in the compliance division, where, she says, her Series 7, 8, 63, 24, and 55 certifications turned out to be more important than her legal degree. Four years later, she was asked to manage client litigation. "That moved me into the legal department, where I worked on a little bit of everything," she says. Gannon was named senior associate general counsel and partner in 2006, when she was tasked with establishing a regulatory team.
In 2009, Gannon became responsible for the employee and benefits team, where she oversees three other attorneys. They have helped the HR department update policies and programs in light of the #MeToo movement and greatly expanded parental leave (to sixteen weeks of paid leave for the primary caregiver and two weeks for the secondary caregiver).
Her team is also educating the firm on legal risks related to the use of artificial intelligence in digital interviews. A 2017 Deloitte report found 33 percent of surveyed companies use AI in the hiring process. Though designed to save time and reduce human bias, Gannon says, there are several potential pitfalls. "For example, if a company uses AI to assess word choices or tone of voice and only reviews candidates who attain a certain score based on a predetermined algorithm, it could end up being discriminatory," she explains.
At press time, Gannon was preparing for another move. "I will be back in compliance by year-end 2018," she says. "The biggest difference since I last worked in that department is how much we have grown." In 2001, the team comprised about fifty associates in the compliance division (compared to six hundred today) and four thousand financial advisors throughout the firm (versus seventeen thousand).
Yet the firm's laser focus on compliance hasn't changed, according to Gannon. "The industry has become increasingly complex and dynamic," she says. "As a result, compliance is more important than ever. Instead of just meeting the requirements, we try to exceed them." The firm established a new position called the culture of compliance leader in each of its 260 regions, to reinforce its core values, behaviors, and commitment to compliance.
"It's another example of why I love Edward Jones," Gannon says. "We provide all the resources required for everyone to succeed."
Family History Inspires Volunteer Commitment
One of Kimberly Gannon's biggest passions outside her job is her role as a board member for Lydia's House, which hopes to end domestic violence via the provision of transitional housing, education, training and job opportunities to abuse victims. Gannon says the group has a waiting list for its services.
"This is such a sad situation, but I have great motivation for the work," Gannon says. "My grandmother was married to a local athlete who owned a bar in town. Unfortunately, he was physically abusive, once knocking her unconscious."
Gannon's grandmother divorced him, raised two daughters, worked full-time, won two terms to the City Council in Canton, Ohio, and was a member of the Board of Elections from 1956 to 1981. Her name was Vera Elliott, and she was named, along with John Glenn, as a lifetime contributor to the Democratic Party of Ohio.
"I keep a photo of her campaigning with John F. Kennedy on my desk," Gannon says, "as a stimulus to be a strong woman and to keep supporting the programs at Lydia's House."