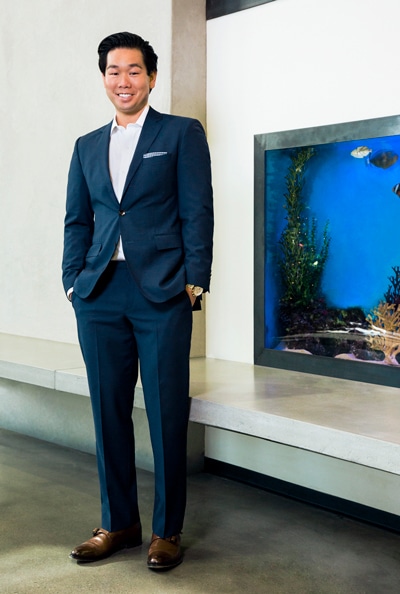 With more than five hundred employees, a 160,000-square-foot headquarters, seven global offices, products in more than fifty thousand stores, and a retail relationship with Apple, the Incipio Group may be one of the biggest companies you've never heard of. What started in a SoCal garage is now a powerhouse firm that delivers the best mobile-device accessories to customers worldwide.
Scott Akamine is Incipio's general counsel and secretary, and since joining the company in 2015, he's helped orchestrate several important deals and acquisitions. Together they've transformed a once unknown single company into the group it is today, a global technology-solutions platform with a diverse portfolio of owned and licensed brands. Here, Akamine shares the details of three notable deals—and lessons learned from one that got away—that have helped position the company for ongoing success in a fast-paced, consolidating, and competitive industry.
Incase
Incipio's first product was a protective case for Palm Computing's groundbreaking 1997 personal digital assistant, the PalmPilot. For the next decade, Incipio carved out a niche for itself as CEO Andy Fathollahi focused on making quality mobile-device accessories in relative obscurity. Fathollahi's philosophy was simple: he wanted to appeal to the most consumers by providing simple protective cases and accessories in standard colors such as black and gray.
Fast-forward to 2015, when rising star Scott Akamine was looking for his next professional adventure after starting as a corporate associate with Latham & Watkins and going in-house with top client Allergan. At that point, Incipio was simply making new cases for every new cell phone. Akamine met with company leaders but wasn't easily impressed—until he heard their vision.
Fathollahi's company had acquired a lifestyle brand, TAVIK, in 2012; a Bluetooth speaker company, Braven, in 2013; and an iPad keyboard case maker, ClamCase, in 2015. "Incipio was about to evolve," Akamine says. "The market for tech accessories was consolidating, and things were at an inflection point. I could see a company on the verge of something special, and I wanted to be a part of enabling that."
Akamine joined Incipio in June 2015, when many innovative smaller companies were starting to sell to a few key major players such as Incipio. In many ways, it was the start of a competitive dash to snatch up as many targets as possible. Akamine went right to work courting a prized and respected company, Incase, which made premium accessories for Apple users. As a point of differentiation from Incipio, Incase had successful, focused branding strategies to build a loyal following. Incipio's leaders knew they could onboard Incase and manufacture its products in existing Incipio facilities, pushing out new products through existing partnerships with big-box retailers and US wireless carriers. Incase's private-equity owners made it clear they wanted a deal done quickly. Akamine received a term sheet and closed the deal just twenty-nine days later.
He accomplished the task in part by partnering with his former employer, Latham & Watkins, as transactional counsel. The move allowed Akamine to use documents he was already familiar with while personally handling a lot of drafting and negotiation. "There was no gap between what was being negotiated and the advice I took to my CEO," he says. The Incase deal brought Incipio new customers and a heritage of curating design solutions that address the lifestyles of those who create on the Apple platform. With Incase in hand, Incipio was well on its way to becoming the one-stop shop for wireless accessories.
Goode Partners
In 2016, Incipio announced a minority equity investment from Goode Partners LLC. Akamine negotiated the deal. It fell on him not only to set the terms on paper but to help his CEO understand the ins and outs of the partnership. Fathollahi, who had bootstrapped the company for nearly twenty years without ever parting with equity, leaned on Akamine as he grappled with board-meeting structures and corporate governance.
The investment validated Incipio's strategy, enabled future acquisitions, and accelerated Fathollahi's growth plan.
Skullcandy
Deals were signed and press releases went out, but after months of negotiations, Incipio's deal to acquire Skullcandy ultimately evaporated in 2016. "We're still disappointed that we didn't get the deal done, but in the end, we are happy with our decision and believe that we executed our game plan correctly," Akamine says.
So, what happened? Simply put, Incipio was outbid by a private-equity company—twice. The other company's final topping offer beat Incipio's by nearly $20 million. "Skullcandy's headphones and other products were a logical extension for us, and their gaming division was attractive, but we have to be disciplined," Akamine explains. "Auction winners often fear overpaying, and our financial model could not justify the price."
Although Incipio walked away, the bidding war opened its leaders' eyes to new possibilities. "We were trying to extract certain synergies," Akamine says. "Losing the deal affirmed that we can expand into new areas and create products for items
that are already in stores, on the shelves right next to our
existing products."
Griffin Technology
Akamine pulled double duty during the Skullcandy negotiations to finalize a deal to acquire Griffin Technology. Griffin, known for innovations such as the iTrip FM transmitter, has reinforced Incipio's product-development and manufacturing efforts and brought with it yet another loyal customer base.
Because Griffin already had a complementary product set and worked with a list of familiar vendors, Akamine was able to handle many aspects of the due diligence process himself. This helped him and others use early-stage integration meetings to discuss strategies for maximizing the value of the new business. For Incipio, that's been a long-held desire and a welcome change.
"A good integration starts with a good diligence process," Akamine says. He's also been ramping up efforts to improve the process by giving leaders the tools and templates necessary to analyze material and create specific integration plans for their own areas and new departments.
Akamine's done a lot for Incipio in his first few years, but as the company marches deeper into 2018, he's most excited about its future. Incipio is pushing more volume, growing its portfolio of owned brands, partnering with strong licensed brands, and building the business with an eye on a future liquidity event. After nearly two decades in business, the company is starting to realize its full potential.
---
Marshall, Gerstein & Borun LLP:
"Scott is a fun and talented general counsel who can quickly move through dense material to focus on what counts. He understands the issues, even in esoteric areas of law, and thinks strategically for his business."
—Benjamin T. Horton, Partner and Chair of IP Litigation