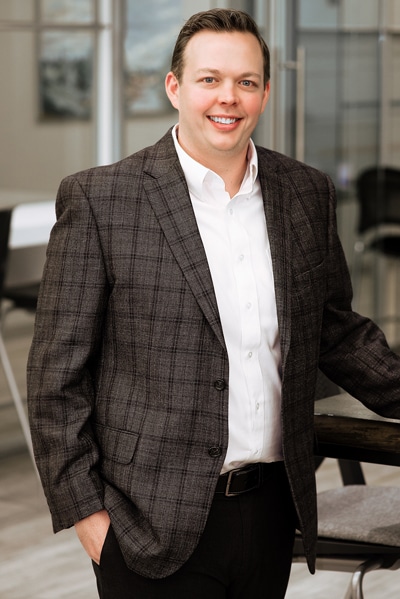 At the beginning of his career, Blake Nickles turned down an offer for an in-house position and instead went to work for a large general practice firm. "I didn't want to get too focused on one topic," he says. "I wanted a broader experience in intellectual property."
The move ended up paying off, and now Nickles is using his breadth of experience to continue reimagining the IP function at Hubbell Incorporated, a diversified electronics manufacturer, as senior patent counsel for the company. In recent years, Hubbell's senior vice president and general counsel, An-Ping Hsieh, has devoted more resources to the IP group and brought more of the IP function in-house, allowing Nickles and chief IP counsel George Macdonald to spearhead new initiatives with the goal of streamlining IP processes and maximizing both the short- and long-term success of the company's products.
"The more resources we have internally, the more we can handle internally," Nickles says. "The business has certainly given us a lot more resources in the IP department, so we're doing what we can to return the most value back to the business." Here's a look at just a few of the ways they've been able to do so.
1) Innovating Together
Semiannually, Nickles brings together a group of engineers, marketers, and businesspeople from around Hubbell to brainstorm long-term ideas in meetings called innovation sessions. These sessions combine team members from two or more business groups to allow for ideas to cross-pollinate throughout the organization. "We have a lot of smart people in the company that are busy with day-to-day projects, and this provides a temporary break so that they can think of long-term moon-shot ideas and see what sticks," Nickles says.
Innovation sessions have led to new IP filings, licensing opportunities, and product development. To streamline the filing process, Nickles often invites outside counsel to the sessions as well. "Having outside counsel present for these sessions gives them a much better feel for what the idea is and where we are trying to go as a business," he says. "It also cuts out some of the red tape of invention disclosure filing and streamlines the interview process."
2) Reaching Out to Clients Proactively
Nickles's goal is to protect the company's most valuable resources. To do this, he has to understand Hubbell's product lines, its competitive landscape, and the risk tolerance level of each of its business arms. "It's not a one-size-fits-all approach," he says. "Every situation is different, especially given our diverse landscape in the business, so we try to work closely with each [arm] to understand where their tolerance is."
Nickles also meets regularly with leaders from different business arms to find portfolio-management solutions that fit their legal and business requirements. "Whether it's individual ad hoc product launches or coordinated efforts at trade shows, we want to make sure we're in the loop and that we're in the front of people's minds whenever issues come up," he says. "We're not a department of no. We're just trying to assess risk and find something that's acceptable for the company and move forward from there."
3) Streamlining Departmental Communication
Having effective communication within the legal department is as important as communicating with business leaders. The IP group relies heavily on such internal collaboration to anticipate and solve issues, and as Hubbell continues to expand and add new products, Nickles and his colleagues are defining new communication pathways to ensure effective teamwork within the entire legal department.
"As our company has grown and as our general counsel has accordingly grown our legal department, we want to make sure we're more collaborative than ever," Nickles says. "[That means] understanding the internal communication within the legal department so that we can present one Hubbell legal solution to the clients."
Communication within the legal department is a two-way street: the vice presidents of legal work with their own groups and communicate issues to the IP team, and the IP team communicates non-IP-specific issues to the relevant vice president of legal. "Just because it's outside of the IP swim lane doesn't mean we turn a blind eye," Nickles says. "We just raise awareness and call in the right colleague to help."
4) Strategizing for the Long Term
Without a long-term plan, patent costs can increase exponentially. Nickles is developing holistic portfolio-review strategies to make sure Hubbell controls its costs while protecting the right technologies. "We're continually trying to refine it from an ad hoc, one-off decision-making process to a more coordinated, group-level review," he says.
Nickles's approach to the patent portfolio of each of Hubbell's business groups depends on each group's industry landscape. The lighting industry, for instance, has undergone a significant transformation with the advancement of LEDs and control technology, so for Hubbell Lighting, Nickles files patents that are broad enough to simultaneously protect its new inventions and ensure a scope of protection over the next generation of products to come.
But, his most valuable tools are the periodic reviews he completes with business leaders. "Technology evolves so fast that maybe something considered efficient today is no longer efficient tomorrow," he says. "That's why it's so important to make sure we have an open line of communication."