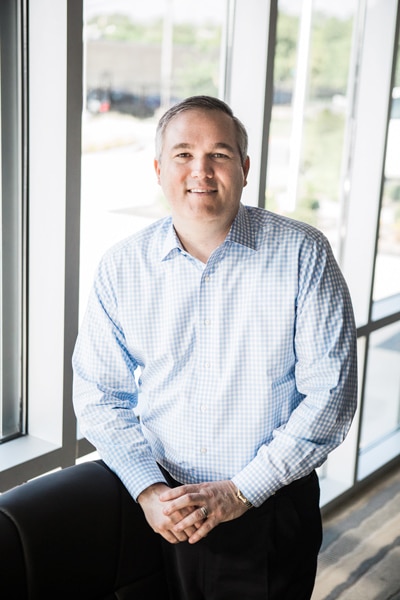 In 2016, Steven Geiszler was the youngest patent litigator to be named one of the best lawyers in the state of Texas. He was awarded the distinction by Chambers and Partners, an organization devoted to identifying the legal sector's best and brightest. Later that same year, he surprised many by resigning from multinational law firm Dentons and taking an in-house position at Huawei Technologies.
"There aren't that many people that do that," Geiszler says, but he adds that it was "relatively easy" for him to walk away. Part of that has to do with the fact that Huawei's headquarters are located just a hop, skip, and jump away from Dallas, where Geiszler has built both his life and his career. Also, his role at Huawei is perfectly suited to his talents.
If you're unfamiliar, the Chinese technology company is the world's leader in the realm of telecom infrastructure, not to mention the third-largest cellphone manufacturer behind Samsung and Apple. If that weren't enough, Geiszler says Huawei is listed as a Fortune Global 100 company, too (it's number eighty-three). The reputation was hard for him to overlook when he was considering taking the job there, and on top of that, they were looking not just for an in-house counsel but specifically a US chief intellectual property litigation counsel—a position any IP litigator would covet.
What made the choice even easier for Geiszler was the fact that it was a Chinese company. In college, he lived with a Taiwanese-American student, and in the years since, he's found himself working for and against a variety of Chinese and Taiwanese companies as a patent litigator. Because of this, he's become familiar with China's culture, language, and business practices. "Frankly," he says, "if Huawei weren't a Chinese company, it may not have been as interesting. For me, it was a particularly intriguing aspect of the opportunity."
Geiszler had also worked with a number of Chinese professionals in his previous career as a biomedical researcher, a profession you probably wouldn't expect to be in the rearview of one of Texas's best lawyers. Perhaps more surprising, though, is the revelation that Geiszler never even intended to become a lawyer. But, when he did eventually decide to switch careers, he took the analytical skills of science with him into law school.
"Because my background and comfort area was science and technology, I took as many IP courses as I could," he says. "My goal was to understand the way we, as lawyers, work with technology companies. From the day I set foot in law school, my focus and intent was always integrated with technology."
When he landed in Dallas, Geiszler discovered there were basically two career paths. "One was to prosecute patents, and the other was to be a litigator," he says. "I knew early on that I didn't want to be a prosecutor, so almost by default that made me a litigator."
Luckily, that worked out. The Eastern district of Texas, he says, is the busiest district in America for patent litigation, and even though the city's IP scene is focused less on biotech than on electronics, Geiszler was able to quickly bring himself up to speed in the field. "I had no choice but to work on electronics cases," he says. "I'm certainly not an engineer, but I became very comfortable working on them."
Good thing, too, because that's his specialty at Huawei. But, it wasn't just his knowledge in the space—nor his flawless pedigree—that made him such a good fit for the company. It was his familiarity with the culture.
"Huawei has a large and rather sophisticated team that manages IP not only in the US and China but all over the world," he says. "But, no matter how much you read and study and learn US patent law, it's never quite the same as having somebody on the ground who's from here, has lived it, and done it for fifteen-plus years like I have."
He's quick to add that he's not replacing anyone. "I'm here to augment the capabilities that were already there," he says. "I can sit down with my colleagues in China and say, 'Okay, here's what's going on with the court, here's what the other side's lawyers are attempting to do strategically,' and together we're hopeful to get a better outcome."
His presence on the Huawei team is also helpful when dealing with outside counsel, if only because of the simple fact that he can better communicate with US firms, being a native of the country himself. He can also help convey to Huawei the incentives of the pitches and proposals of outside counsel as they prepare for litigation.
The cumulative effect of Geiszler's contributions has been that Huawei now feels more comfortable pushing back on IP cases that they perhaps wouldn't have in the past. "That's because I might recognize the issue and have firsthand experience dealing with it and developing the proper strategy," Geiszler says. "The other thing is, because I've practiced for so many years, I know a lot of lawyers—and not just who are on our side, our outside counsel, but opposing counsel as well. Sometimes, it's just simply that I may have insight into the best way to pursue certain parts of the case. That may be another data point to help influence how we pursue or how we defend a case."
Geiszler is nearing his one-year anniversary with Huawei, and he says the size and complexity of his work is expanding to such a degree that he'll eventually need to expand his team. That's his hope as he moves into the future, which holds what he describes as "some rather large and sophisticated intellectual property disputes," the kind that he says will "impact the relative market position or standing of various players in the telecom industry."
These shifts will undoubtedly affect Huawei's long-term plans. What won't change, however, is Geiszler's dedication to the company. While he admits to having pondered the "unknowns and mystery" of going in-house early on, he's come to find the experience deeply satisfying.
"Part of what drew me in-house to Huawei was not only the size and sophistication of the work, because a lot of that I saw when I wore my other hat as outside counsel," he says. "But, when you're outside counsel, you don't see or aren't privy to the overall strategy. What is that forest? Many times, you're working on one, two, or ten trees in the forest. You're not seeing it all. But, once you go in-house, you understand what truly is the objective. I recognized this as an opportunity that would probably be well suited to my experience, but also as one that would personally be more intriguing and satisfying. And so far, it's been exactly that."
One can wager Huawei feels the same. Not just any company can count one of Texas's most-celebrated patent litigators among its ranks, let alone among its leadership.
***
Carter Scholer:
"Steve is the epitome of the new breed of GC—he told me up front that I was not working for him to obtain an optimal result, we were in the trenches working together."
—E. Leon Carter, Principal
***
Jones Day:
"Integrity. Commitment. Excellence. Courage. These values dictate Steven's approach to every legal issue he tackles on behalf of Huawei. It is a privilege to know and work with him."
—Hilda C. Galvan, Partner