In the mentor department, Adrian Mebane has most people beat. Some apprentice with a relative, some study under an immediate superior, but Mebane interned for Eric Holder, the former US Attorney General under President Barack Obama, when Holder was still serving as Judge of the Superior Court of the District of Columbia. Mebane was in the Howard University School of Law at the time, and he and Holder have remained friends since and still text frequently. "He's getting old, as I like to tell it," Mebane jokes.
From Holder, Mebane gained his first insights into prosecutorial work, and he carried those into the first positions of his career, as an assistant state's attorney in Chicago and then as a criminal trial attorney for the US Department of Justice (DOJ). He later moved into the private sector, first for a legal defense firm and then as in-house counsel for oilfield-services company Weatherford before arriving at the Hershey Company in 2014.
Here, Mebane discusses how his former prosecutorial work still applies to his in-house work for Hershey and how he's used the skills he's gathered over the years to streamline processes for the leading snack and confectionery company's legal department.
So, you got your start as a prosecutor, largely focused on fraud by the time you got to the DOJ. What aspects of that work do you think translate well to your work for Hershey now?
Any prosecutor would tell you teamwork is paramount. That person sitting on either side of you is important to help understand and address both the strengths and weaknesses of a particular case. And, as a prosecutor, you're used to asking a ton of questions. You're used to engaging and interacting with people, being able to see both sides, looking for the weaknesses in your case, looking at things as comprehensively as possible and processing information as quickly as possible.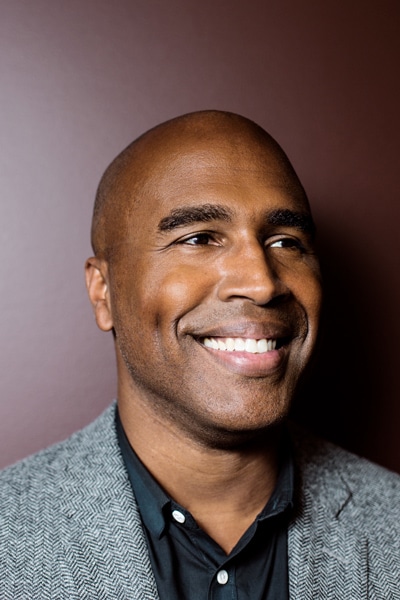 You became Hershey's deputy general counsel in late 2015. Can you describe what the legal department was like when you first took on the role and some of the ways you've worked to optimize its services since then?
I tried to do that day one when I walked in. Hershey's been around for nearly 125 years. It's a really iconic, purpose-driven, brand-centric company, so when I arrived, my emphasis was on learning the business and building an ethics and compliance program that was best for Hershey. I also wanted to make sure I was building something sustainable. I had to dig in, learn the business, and establish a rapport with our business colleagues around the globe.
Leslie Turner has been our general counsel for about five years. When Leslie arrived, she inherited a law department that largely prioritized its focus on specific legal areas versus identifying synergies across functions. We had many brilliant and sharp lawyers in particular areas, whether in regulatory, intellectual property, or labor and employment. But, looking across the enterprise to see how we as a law department could provide that commercial lift to the business was an opportunity for us. We weren't always viewed as a strategic business partner, and we've had to really lean in to show the commercial value we lend to the company.
How'd you help change that?
I started to dig in and understand our company and how we conduct business. An advantage of having an ethics and compliance and prosecutorial background is that it enabled me to probe and work with all parts of our organization. We as a law department needed to move just as fast as the business and enable it to drive growth. For example, we looked at marketing and advertising initiatives that were being presented to our department for review and the amount of time our department spent reviewing that material. We've since streamlined that review process to allow the business to action quickly. Those adjustments help route those requests to different functions that need to put eyes on them, and we've been able to minimize the review time significantly. You don't want to be that department where things go to die.
What else?
On the contract side, we developed a framework that gives the business some guardrails for when certain agreements need to be escalated to the law department for input, whether it's changes to indemnification or compliance language.
We've also limited the number of external counsel we engage. We had this outside counsel optimization initiative, back when I joined the company, that identified a number of firms that strategically support us. We've realized cost savings and efficiencies as a result.
You've also talked before about certain measures that have changed the conversation around risk at Hershey. Can you go into that a little bit?
We've helped redesign our enterprise risk-management framework as a commercial tool. It's a platform to help change the entire enterprise discussion around our approach to risk. It helps you determine what your performance tolerance would be and how risk can positively or negatively influence certain business objectives and strategic imperatives. It gives you as a business an opportunity to pivot on a decision a bit quicker.
You've also mentioned streamlining Hershey's IP approach. How are you doing that?
We're known by our brands: Reese's, Hershey's, Twizzlers, and several others. It's important for our team to be on top of the transactional activity of managing a trademark portfolio, but they also have to understand what the goals are for the brand managers, what the marketing plans are, and what the regulatory implications might be. How do we want the consumer to feel when they think about Reese's or Hershey's?
We brought together colleagues from our IP team and other functions of our law department and an independent external partner to help us determine how we could ensure that our legal approach aligns with our commercial priorities. We've streamlined our trademark search and clearance process. We have a repository of certain tag lines and approved trademarks for quick reference, to accelerate how we approach these kinds of activities. We've also formalized our IP legal review. It's a proactive legal review of new innovation, and we've continued to accelerate in that area over time.
Are there other aspects of the legal department you hope to streamline in the future?
There will always be continuous improvement to our resource allocation and development of talent: more automated workflows, templates, and guardrails. It's all part of our effort to empower business leaders to go and make some of the decisions that, perhaps in the past, the law department may have had to weigh in on.
Photos by Gillian Fry
***
WilmerHale:
"Adrian brings the total package as inside counsel. His instincts are excellent, he reads the room as well as anyone, and he possesses a keen legal mind. His experience in and out of government and his skills and collaborative approach in managing people as well as high-profile cases make him extraordinarily effective. Perhaps most important, he is just a great person, and that quality simply magnifies his professional skills and makes him a pleasure to work with."
—William McLucas, Partner and Chair of the Securities Department