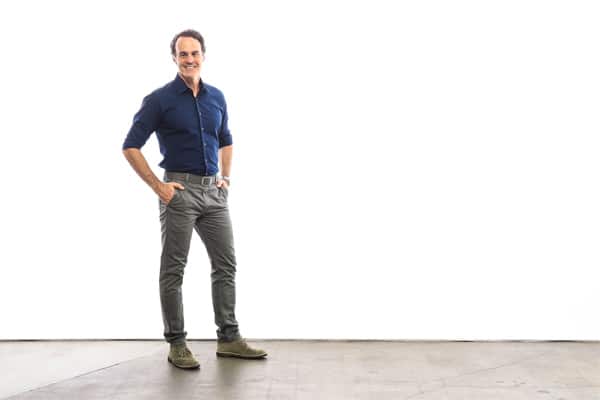 Bill Berry was living in Venice Beach in 2012 when he noticed that Google had opened an office just five minutes from his new house. On a whim, he looked on Google's website to see if the office was hiring.
"They had this posting for someone to join their general litigation team," Berry says. "They wanted ten to twelve years of experience, including government experience as a regulator or a prosecutor." For Berry, a lawyer with experience in engineering, business, patent prosecution, and litigation in the public and private sectors, it was a tailor-made fit. "I read that, and it was almost like a copy of my résumé," he says.
It was good timing, too, because Berry had been looking to go in-house for the past several years before that. The posting actually reflected the long, circuitous path his career had taken over the years, but he's quick to say that he's grateful for every twist and turn that has been thrown his way. "In the legal profession, a lot of law students are looking for a straight and true path," he says. "But I think a nontraditional path is probably a better one—at least it was for me." And, now that his varied path has landed him at Google, he's tackling an equally varied set of litigatory needs for the company.
Being a lawyer wasn't something Berry even considered at first. After finishing his undergraduate studies in engineering and business and spending roughly four years in the Navy, he emerged with a plan to go to business school. But, the options it presented didn't appeal to him, and a fateful internship in Houston, coupled with mentorship by a local judge, afforded him an in-depth look at the legal system that changed his outlook entirely.
Soon, Berry was in law school, and the twists kept coming. His plans to become a state or federal prosecutor were stymied by a slim job market, so he drew upon his engineering degree to move into patent work, which he found in San Diego. Over the next several years, he joined the esteemed Quinn Emanuel Urquhart & Sullivan law firm in Los Angeles, took a position in the enforcement division of the Securities and Exchange Commission (SEC), and then rejoined Quinn Emanuel Urquhart & Sullivan to broaden his litigation experience more. Amid all this, he was also offered an appointment with the FBI, which he considered but eventually turned down.
"I timed it right," Berry says of his entry into the SEC, and in some ways, that assertion applies to all his positions. As someone who thrives on variety when it comes to workload, Berry has been able to build up an incredibly strong and diverse résumé and broaden his skills with every career pivot. The culmination of that experience is his position at Google, where he not only draws on the breadth of his career but also finds himself tasked with fresh, variegated work every day.
Berry served as a litigation counsel for his first two and a half years at Google, handling the tech juggernaut's nonpatent litigation. Then, he was promoted to senior litigation counsel and head of Google's general litigation team, a position from which he now oversees a team of "super smart, super fun" lawyers, each with "an average of over fourteen years of experience." Working with such an experienced team of powerhouse lawyers, who he says are some of the world's most "top-notch" legal minds, is the highlight of his job.
Not only are his teammates incredibly talented lawyers, he adds, but they also bring an unmistakable energy to the office that is contagious. Their livewire nature is something he noticed from his very first interview. "What stood out was the energy," he says. "You walked in, and there's a palpable energy in the office. So much discussion, collaboration, and lively banter." This is helped along by Google's open floor plan, which Berry prefers because of how it matches the free-flowing nature of his team, each member of which emboldens the others, including Berry, to be that much better at his job. He counts himself lucky to be part of such an amazing team.
The other facet of his job that Berry finds so consistently exciting is Google's breadth of impact. "As a litigator at an in-house job, you tend to work at a company where the issues you'll face center around a specific product, product line, or service," he says. "You have a small handful of products you deal with, so you can find yourself dealing with the same thing over and over again. The thing about Google is that we're so innovative and always disrupting so many spaces that you never get bored. When I first joined, driverless cars weren't on the radar. Google Play was just getting started. And now we're actually selling hardware. The diversity of issues we're facing—and the fact that we're always on the cutting edge of these issues—isn't something you're likely to see at any other in-house job."
While this is an exciting part of the position, it also presents particular challenges. "Two things often happen for us," Berry says. "One is that we've got old laws that were written on the books to cover older forms of technology. As a result, old laws are sometimes being applied to new technologies, which can create problems. The second thing is that we can also face situations where a relatively newer law is trying to keep up with technology."
Considering that "the sausage is always being made," it becomes difficult to pin down the particulars of a new law when the technologies to which it applies are constantly evolving. "Sometimes these laws are being written without the full understanding of the technology," Berry says. "We have to deal with a lot of these issues while we're pushing the envelope."
Couple this with the fact that, Google being as ubiquitous as it is in culture, a lot of what Berry and his team do is respond to lawsuits as they are filed against Google. "We can't always control what comes in the door," he says. "We'll have a general idea if a space is risky and exposed to litigation, but you can't always control what the cases are."
But you can be prepared for them, and that's a theme that pretty much epitomizes Berry's career. For years, the arc of his career remained as unpredictable as the innovations and legal evolutions at Google, which makes Berry himself an even finer fit for the company.
***
Mayer Brown:
"Bill is a wonderfully creative thinker who has an uncanny ability to see three moves ahead on the strategic chessboard. Those skills, combined with his wit and collegiality, make him an enormous asset for Google."
—Lee Rubin, Partner
***
Quinn Emanuel Urquhart & Sullivan LLP:
"I've known and worked with Bill for over fifteen years. It's hard to imagine a lawyer more strategic, practical, and well-rounded in all areas of law. His versatility and judgment make him an extraordinary lawyer."
—Diane M. Doolittle, Partner