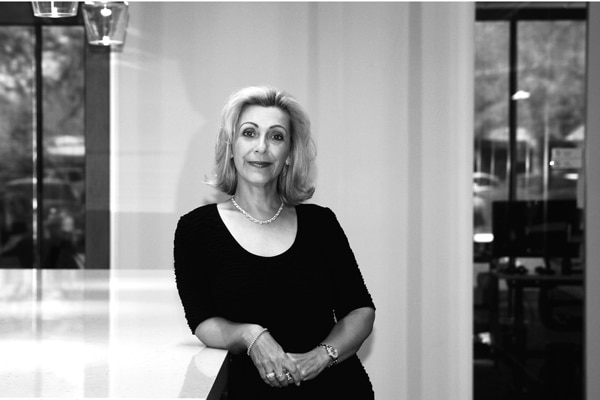 Before Nima Kelly was GoDaddy's executive vice president, general counsel, and corporate secretary, before she was a product manager or a human resources consultant or a lawyer in New York City, she was a college senior who decided to go to law school because she didn't know what else to do.
"It was a shock when I arrived and discovered that virtually all of my classmates came from families with legal backgrounds, and they all had big plans to become commercial litigators and corporate layers," she says with a laugh. "I didn't really know why I was going to law school."
Luckily, labor and employment law caught her attention right away, and she spent time in various positions in the field before landing at GoDaddy in 2002 as a project manager. She's since served the world's largest cloud platform dedicated to small, independent ventures in a number of capacities, including program management and publicity, and today, back in law with the legal department, she's known as the VP of Everything. Most recently, she relied on her multifaceted leadership experience to help GoDaddy navigate the acquisition of Host Europe Group (HEG), a European vendor providing similar services across the Atlantic.
GoDaddy has made major acquisitions before, but none have been as large or complex. HEG serves about 1.7 million customers and 7 million domains, and GoDaddy acquired the company to accelerate its move into the European market and scale up quickly across the continent using HEG's infrastructure. The companies announced the deal in December 2016 and closed in April 2017, and it was up to Kelly and the rest of leadership to smooth the transition as much as possible.
They created nine workstreams composed of GoDaddy and HEG employees to manage, with milestones and tracking, the integration of various departments and business elements—from customer care to products and platform to others—and Kelly attributes their success to a few fundamental principles. First, start early: ideally, integration planning should begin during negotiations. "Even though negotiations may fail and it may be wasted effort, I can't understate the importance of thinking about integration as soon as you start," she says, adding that timely efforts pay off by allowing versatility down the line, should the pace of the business move more quickly than integration efforts.
Second, keep lines of communication active—up, down, and across the organizational chart. Frequent updates should head off unpleasant surprises and communications lapses, which can threaten the fabric of newly merging teams.
And, most of all, make the acquired business feel like part of the family. That's crucial from the very beginning because solid team identity and direction will support the work at every step. When HEG legal associates visited GoDaddy's Arizona headquarters in Scottsdale for the first time, for example, they got the opportunity to further develop team bonds and were given a thorough introduction to American culture, including a visit to the Desert Botanical Gardens, an afternoon at a Major League Baseball game, and an evening at a western-themed saloon and dance bar. There's no substitute for face-to-face interaction, Kelly says, and though it can be tricky to manage with international teams, the results are worthwhile.
Kelly notes that these principles might sound familiar, given that every acquisition provides similar lessons in leadership and organizational management. But, if routine deals are the coursework, a deal as broad and sophisticated as the acquisition of HEG is a kind of final exam, for which leadership and associates have to synthesize their accumulated knowledge into a clear, well-crafted, and versatile approach. Staying fresh with the fundamentals—"You almost have to write them down on your desk," Kelly says with a laugh—keeps teams flexible, goal-oriented, and accountable.
The acquisition posed one additional challenge for Kelly and the legal team: the divestment of HEG's PlusServer business unit. From the deal's conception, GoDaddy leaders were planning to spin the unit off, given that it wasn't suited to GoDaddy's overall strategy; they aimed for a complete divestment within eight to ten months of the deal's close. "It was complicated from the corporate governance, accounting, and tax perspectives," Kelly says. "It was a lot of work for the GoDaddy legal team, the HEG legal team, and outside counsel in both places."
GoDaddy used the demands of the divestment to put its early investments in team integration. "We were working as a team from day one," Kelly says. "We couldn't have done it if we'd had disconnects. Our overall cultural-integration efforts really bore fruit when we were having to work across time zones and languages." By the end of August, PlusServer was completely divested, three months ahead of schedule, and GoDaddy used the proceeds to pay off associated  debt.
Over the course of the deal, Kelly has stuck to a few of her personal leadership principles, too. Work harder than everyone, she says, never ask your team to do something you wouldn't do, and most of all, find joy in the process.
The depth and longevity of Kelly's relationship with GoDaddy has given her a complex understanding of how the business functions and how she can enable growth from her position as general counsel. Now, she's looking ahead for her team, making sure that they have the opportunities they need to develop as legal professionals. For example, presented with multiple opportunities to travel to Europe for the deal (as well as travel to Asia for other work-related matters), she has every time insisted that her team go instead.
"I thought it was more important to send my people," she says. "I was given those opportunities by my superiors. Without those experiences, you don't grow, you don't get new opportunities, you don't get the chance to reinvent yourself like I have."
Photo by Sharon Young
Nima Kelly's Career Milestones
1987: Joins a corporate firm in NYC doing mortgage-backed securities
1988: Joins Kauff McGuire & Margolis as a labor and employment litigator
1995–1999: Serves first HR role as a vice president at Beechwood Data Systems in New Jersey
2001: Moves to Arizona; continues to telecommute to the East Coast
2002: Joins GoDaddy as a product  manager
2005: Serves as vice president of public relations for GoDaddy's first Super Bowl commercial
2005–2009: Produces and cohosts the Radio GoDaddy podcast, opens the company's charitable arm, GoDaddy Cares, and more
2010: Joins the GoDaddy legal department
2012: Becomes general counsel
2015: Shepherds GoDaddy through its IPO
2016: Wins the State Bar of Arizona's Outstanding In-House Counsel of the Year Award and is named as one of AzBusiness magazine's Most Influential Women in Arizona Business
***
Quarles & Brady LLP:
"It's been awesome to watch Nima and GoDaddy grow the industry and grow across the world.  Kudos, kudos, kudos – here is to the VP of Everything!"
—Brad Vynalek, Partner