B
ecoming a trial lawyer was all Chris Lacy wanted in his younger days. And, in fact, that's exactly what he became—for about ten years. But, then "the bigger picture" kicked in, and Lacy considered the places litigation could take him. Going in-house—with exploration and production company
Southwestern Energy
—appealed in ways it never had once he realized the value a litigator could bring to a business (see
sidebar
). He
came on board
as a senior attorney for Southwestern Energy in the summer of 2014, and he took on the role of assistant general counsel less than three years later.
Here, Lacy speaks with Modern Counsel about life in-house with a relatively small legal team, the value he brings as a former litigator, and how he relied on his skills to help Southwestern Energy persevere in a multimillion-dollar class-action lawsuit.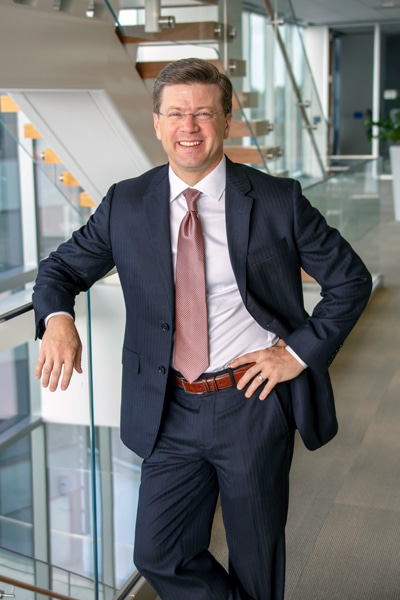 What was it about Southwestern Energy that convinced you it was the right place to take your career?
If you look at the side of our building or on our letterhead, you'll find a funny-looking engineering sort of formula. But, if you find out more about "the Formula," as we call it, you learn it's all about the right people doing the right things. What struck me during the hiring process were examples I was given where the company made what it believed was the right decision, even though the law would've permitted the company to choose a completely different route.
The legal department there is fairly small, right? Are you working to grow it at all?
We are definitely lean, but our entire industry has been faced with the challenge of doing more with less in the current commodity price environment. I see that as an opportunity to add value in different and creative ways but have to admit that, like a lot of my colleagues at other companies, I certainly wouldn't complain about a little additional help now and then.
How does corporate governance factor into your work?
I've taken on more of a corporate governance role in the past year. To me, an important part of corporate governance is effective communication. Talking to the board, senior executives, or even shareholders is a very similar process to talking to a judge or jury. You often are called on to marshal and distill a complex set of facts in order to help someone make a decision.
Corporate governance is one example where I feel I'm personally bringing value to the company. Communicating to shareholders through our proxy statement, for example, is very similar to communicating to the court through a brief. And, in order to be successful in court, you need to be able to tell a compelling, succinct story in as few words as possible.
So that's one example of the value you personally bring. What's another?
The other big way I think we drive value for the company centers on risk. Generally, when you hear lawyers talk about risk, it's usually only in terms of risk avoidance or something along those lines. But successful companies are successful because they intelligently choose which risks to take—while also taking reasonable steps to reduce the possibility or severity of bad outcomes. From a legal perspective, I view risk much more as a selection process, not just as an avoidance issue. If you only approach risk from an avoidance perspective, at the end of the day, you can justify not making any decision or deal.
Speaking of decisions and deals—what can you say about the class-action lawsuit that kept Southwestern Energy busy over the past several years?
The basic argument was that Southwestern Energy wasn't paying enough in royalties.
There were a number of cases filed by various groups of plaintiffs' lawyers. Two of the cases were already pending when I got here, so the first thing I did was put together lawyers from four firms, based here in Houston and in Arkansas—both trial lawyers and appellate lawyers. My goal was to build a team that had the collective skill set that I thought we needed in order to execute the strategy I had in mind.
And how did that approach play out?
There were certainly a lot of twists and turns along the way. We had competing groups of lawyers in federal and state court. At one point, we reached a global settlement with class counsel in the state case, but the judge in the federal case told us that we were going to trial in his case, despite the global settlement in the state case. So, we had to terminate the settlement—which we were permitted to do under the terms of the settlement agreement—and go to trial in the federal case.
It was a two-week, hard-fought trial. The plaintiffs had asked for more than $300 million in total. It went to the jury on a Friday afternoon, and in less than eight or nine hours—the jury was willing to stay late—the jury found we did nothing wrong, we'd honored the leases, there was no tricking royalty owners. They found for us on every single count.
It must've been so gratifying to get that verdict.
I told you how our company believes we're the right people doing the right things. If we really believe we've done something wrong, we're willing to own up to it. So, it was very satisfying for the company to have our belief that we didn't do anything wrong validated.
You could probably teach a complete law course based just on those cases.
I would love to. From strategy to procedure to risk management, those cases had it all.
The Benefits of Litigators
Early in his career, Southwestern Energy's Chris Lacy assumed that deal-making lawyers were best suited for general counsel roles. But, the more he conducted his own research, the more he saw the advantages of those with litigation backgrounds. In his own words, here's why:
"Litigators are strategically minded in the short and long term. Most cases last years. Because of that, effective litigators are those who see down the road three, five, eight years or more. The same goes for business. At Southwestern Energy, we have to have long-term and short-term strategy planning; our investors demand it. You've got to know where you're going, even many years down the road."
"Litigators are very flexible. As a sixth- or seventh-year lawyer, I flew up to New York to take a deposition, and the very first thing the witness said fundamentally turned the whole case on its head. The outline I'd spent weeks working out went out the window in thirty seconds. It's not all the time, but in big, sophisticated cases, things happen. You can set up all the strategies you want, but things change. The same thing happens in business."
"Litigators are pragmatic. Lawyers are very good at coming up with every possible argument under the sun, but (a) not every argument is effective, and (b) in court, you don't have time for every argument. So, you've got to get a sense of what matters and what doesn't matter."
***
Babst Calland: 
"We've had the privilege of working with Chris Lacy since Southwestern Energy's acquisition and development of property in the Appalachian Basin. Chris is a savvy litigator with extensive knowledge of the business. He is accessible, responsive, and "hands on" with the cases he manages. Chris is quick to facilitate and encourage the involvement of the business-unit leaders in the litigation process, encouraging a team approach to resolving the litigation. Chris insists on and develops winning legal strategies combined with common-sense cost-consciousness to deliver value to the company. The people at Southwestern Energy are a pleasure to work with, and all of us at Babst Calland are proud to call Chris Lacy our client and friend."
—Timothy M. Miller, Esq., Shareholder, Charleston, WV
***
Locke Lord LLP:
"We have been privileged to work with Chris. He does an excellent job handling complicated litigation for Southwestern Energy. He supports, assists, and guides outside counsel in the best way possible." 
—Michael V. Powell, Of Counsel