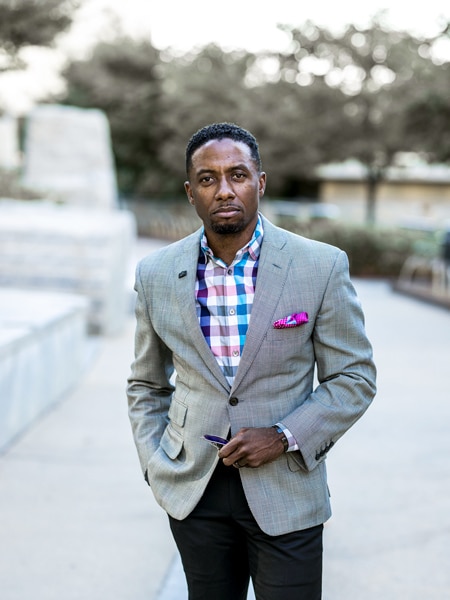 With approximately 5,000 employees serving customers in more than 100 countries around the world, Albemarle Corporation is an emerging juggernaut in the global specialty-chemicals industry. Navigating the choppy waters of this highly competitive sector is challenging enough without making transformative changes to reshape and grow, but that's exactly what Albemarle has been doing for the past several years, all the while claiming market-leading positions for its three global business units: lithium and advanced materials, bromine, and refining catalysts. These are just the types of challenges that Terry Hammons, with skills and insights accrued over the course of 18 years as a business and corporate finance attorney, is particularly well-suited to take on.
As vice president and deputy general counsel, Hammons wears many hats for Albemarle. He oversees legal support for corporate strategy, corporate governance, finance, tax, and treasury. He's also the company's chief regional counsel, responsible for managing corporate and commercial legal support for the company's global regions, and he's the counsel for the lithium resources group. In-house, he leads a team of six attorneys and several paralegals on four continents, and with their assistance and those of his colleagues in other regions, he's working to ensure that Albemarle can continue to operate and grow to meet its business objectives. No less important, he and his colleagues also develop processes, practices, and policies that foster compliance through the implementation of sound business practices and safe, sustainable operations across the entire organization.
Business and law are inextricably intertwined, according to Hammons, so perhaps the most valuable talent he brings to Albemarle is his skill in understanding how to turn business objectives and strategies into action plans that fit within legal frameworks and mitigate the risks inherent in their execution. The company's current focus on growing its lithium business means it must identify all the potential enhancement opportunities and then perform the necessary due diligence to determine which ones will truly be the right fit. Hammons then leads the development and execution of the acquisition strategy, taking into consideration the risks involved in every aspect of the transaction. "To chart the right path to deal success, you have to be able to think like a business person and really understand their endgame," he says.
Like at any global organization, Albemarle's business can be fraught with all types of risks. Having various types of complex mining and manufacturing operations on five continents and using natural resources with distinct qualities presents Albemarle with a web of unique legal and technical challenges. "The only constant is the criticality of our operations being sustainable and environmentally friendly," Hammons says. "Mining salt brines [for lithium], for example, impacts the water table, so we are careful to pump within our permit limits."
Hammons and his colleagues work to help Albemarle's operations maintain the highest possible environmental standards regardless of their location. "Environmental laws may vary from country to country, but we always pursue the highest standards we know," he says. "When the local standards are not as high as our own, we work with local and regional governments so that they understand the significance of establishing high standards for everyone to protect the environment."
Environmental concerns aren't the only risks on Hammons's radar, either. "Sales activity can be a source of potential risk for any global organization," he says. "'Acceptable' business practices can be understood differently across cultures, so our employees get periodic training on conducting business in accordance with the highest standards, regardless of whether they work in Argentina or Australia, China or Chile, the US, or the UK. At Albemarle, the standard is the standard."
Since joining Albemarle in 2015, Hammons has enjoyed increasing levels of interaction with the company's business and functional units, which has also allowed him to participate in strategy and operational discussions from the outset. He's continually learning more about the company's operations, and even though he does not have a formal science, engineering, or business background, he does understand how, at a macro level, science and engineering underlie operations and intersect with the business objectives. "Going on-site and actually seeing and learning from the operators about how we do what we do gives me invaluable working-level insight," he says. "By marrying that practical understanding with my knowledge of the legal framework, I'm able to help the business define and execute strategies to meet the business objectives."
Photo by Duncan Littlefield
Finding Time for Philanthropy
When he's not working on corporate strategy for Albemarle, Terry Hammons supports a number of charitable causes. Here are just a few:
• He and his wife, Tara, are active with the Freedom School Partners, a nonprofit providing summer literacy and educational programs for low-income children. Studies have shown that low-income children are susceptible to falling two to three years behind higher-income peers in reading due to lack of access to quality summer learning programs. Freedom School Partners promotes the success of these children by igniting passion for reading and learning.
• Hammons also supports the Albemarle Foundation, the company's primary source and mechanism for philanthropy. Since its launch in 2007, it's poured nearly $30 million into the local communities in and around its sites. Through the foundation, Albemarle employees have volunteered time and finances to earthquake relief in Ecuador; the Baton Rouge, LA, Children's Charter School; and the Tulip Project, which provides housing for families with ill children in Pasadena, TX.
• Additionally, he contributes to the Albemarle Care Fund, a separate philanthropic arm that provides direct financial support to employees affected by disaster, including the seventy who were displaced by Hurricane Harvey.
***
Mayer Brown LLP:
"Terry is an innovative, strategic leader with deep legal, commercial, and industry expertise. It is a pleasure to work with him to find the best solutions for Albemarle."
—Marco Wilhelm, Corporate Partner, Frankfurt
***
Shearman & Sterling:
"Terry is a first class deal lawyer. He's astute, highly organised, and terrific to work with. In short order he's generated trust and confidence in his judgment from his business clients and external counsel alike."
—James Webber, Partner, London