In the 1930s, Egmont Arens was hired to design a new, low-cost stand mixer for KitchenAid. With his extensive experience and a keen eye as former editor of Vanity Fair, Arens landed on a sleek, minimalist look with a rounded silhouette called the Model "K" in 1937. When Whirlpool Corporation acquired the KitchenAid brand in 1981, the stand mixer had remained largely unchanged, and now, nearly eighty years after Arens's concept was first introduced, it has become recognized as an icon of American design. The KitchenAid mixer is currently featured in both the San Francisco Museum of Modern Art and on many kitchen counters across the United States and around the world.
Thanks to its cross-generational, cross-cultural appeal, the KitchenAid stand mixer is also one of the most fiercely protected trademarks owned by the Whirlpool Corporation. Between guarding it and all other corporate trademarks in nearly 200 jurisdictions around the world (and chasing infringements and counterfeits in many of them), Michel Marie Rose, chief trademark counsel, has a full plate.
"We have about seventy-five lawyers around the world, including a special senior council for KitchenAid," says Rose, who worked as a trademark counsel specifically for the KitchenAid brand for ten years before taking on her current role in 2015.
Nothing is more exciting to dedicated trademark attorneys than rebranding, and true to form, Rose's team has been busily enjoying Whirlpool's process of a massive, global "refresh" of Whirlpool's brand logo.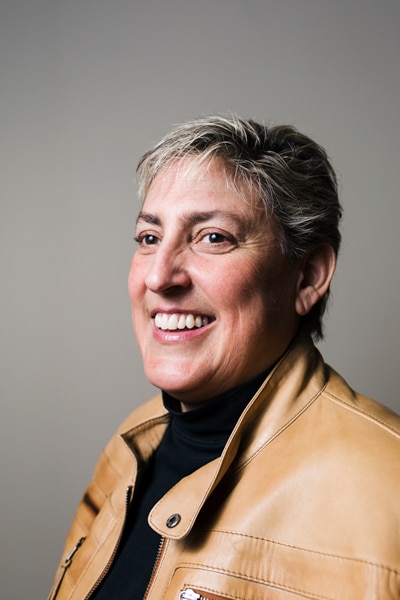 "We've kept the gold ring of promise that's central to Whirlpool's brand identity," Rose says, adding that this multi-year project is taking place in all 180 countries where Whirlpool products are sold.
Protecting trademarks for a company with a scope the size of Whirlpool's while managing a team that operates internationally, Rose holds herself to a high standard as a leader. She prioritizes communicating a clear vision and strategy to her team and colleagues, and making herself personally and readily available to them at all times.
"Whether it's a question or a strategy idea, I always want to be available to my team," she says. "I want to support their success, and I want my sixteen years of institutional knowledge to be of use to them."
Part of this institutional knowledge that Rose brings is a global perspective and understanding of managing several trademarks.
"We must be careful to not make any decisions in one country that will adversely affect another. As our company grows, so too does our trademark portfolio, and with each acquisition, we can gain thousands of marks."
But of all the marks, the shape of the KitchenAid stand mixer is a special one that requires an extra dose of vigilance. From cookie jars to tea towels to mugs, measuring spoons and even earrings, the iconic stand mixer shape illegally appears on an assortment of products around the world every year.
"Candle toppers, charms, dollhouse miniatures, fabric—it's an exhaustive list," Rose says. "But that shape is owned by us and is not available for public use." As a result, the trademark team spends a great deal of time asking manufacturers to remove infringing products, and all KitchenAid employees are constantly on the lookout to protect the design. "Employees call from around the world. We have stand mixer cases going on at all times," she says.
For the first time in many years, KitchenAid recently added a new member to the stand mixer family. The KitchenAid Artisan Mini Mixer is about 20 percent smaller than the classic mixer and has been specially designed for small-batch projects and kitchens with limited space. Despite its more portable size, the mini still provides the same power and durability that KitchenAid has become known for, as well as compatibility with attachments such as Rose's favorite, the Spiralizer. "My KitchenAid mixer is a gorgeous cobalt blue," Rose says. "I use it a lot, especially the Spiralizer during the summer to make zucchini pasta and other dishes with all those fresh, seasonal vegetables."
The timelessness of the KitchenAid Stand Mixer design, the breadth of the Whirlpool trademark portfolio, the talent of her team, and the dedication of the whole corporate staff are all reasons why Rose considers her position at Whirlpool to be a high point in her career. Even more than professional appreciation and success, however, Rose connects with the passion for the KitchenAid brand that so many customers have passed on for generations.
"It's something about the design, the curves, the shape of the head," Rose says. "The usability and durability—these mixers were made to stand the test of time."
And they certainly have, as proven by the kitchen appliance's exquisite design being preserved in the Julia Child exhibit at the Smithsonian. But the stand mixer is also much more than that. For many home cooks around the world, it's been established as a centerpiece of family memories for nearly a century, transcending cultural differences by feeding a basic human desire to care for one's friends and family. It's a tangible symbol of bonding that belongs in their working kitchen, a representation of the love between families when they use it together.