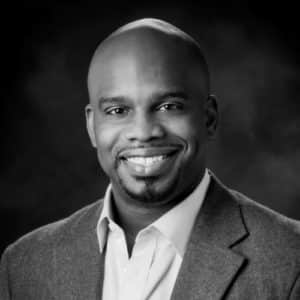 For anyone who's ever set foot in a grocery store, chances are they've purchased Pinnacle Foods' products. In fact, about 85 percent of the company's portfolio of products are found in American households, including iconic brands such as Birds Eye, Duncan Hines, Wish-Bone, Vlasic, Gardein, and more (some with century-long histories). One of the company leaders who is ensuring Pinnacle's brands make it to shelves is Uche Ndumele, vice president and associate
general counsel.
Pinnacle completed its initial public offering in March 2013, and the next year, Ndumele joined its legal team as a senior director to expand its in-house legal expertise. Ndumele worked with two other attorneys, and the legal team's small size allowed him to venture beyond his initial scope. "I had the opportunity to not only work on securities and corporate governance work, but also on regulatory matters, mergers and acquisitions, and employee-related matters," he says. "I appreciate the opportunity to work in different practice areas, and I realized that they correlate directly to the overall success of the company."
OFF THE CUFF
Pinnacle Foods' vice president and associate general counsel admits he made a number of mistakes through the application process to law school and as a young attorney. "Growing up, I didn't know any attorneys, and I couldn't necessarily talk to a number of people about what it was to be a young minority lawyer," says Uche Ndumele, who later graduated from Cornell Law School. "I would have benefited from having resources around me and people who could specifically address some of the issues and questions I had."
That's why the legal leader joined Practicing Attorneys for Law Students (PALS), a nonprofit organization geared toward cultivating the skills of minority law students and early-career attorneys. "I promised myself that if there was a way that I could make that journey slightly easier for the people behind me that I would try to do that on an institutional basis, as opposed to just one-on-one conversations," Ndumele says. "And PALS is really an initiative that spoke to me."
Ndumele serves as vice chairman for PALS, and the board has implemented numerous programs such as panels, retreats, exam preparation, mock interviews, résumé writing, and one-on-one mentoring for law school students and young lawyers. "We've had great mentors and mentees that really help advance the cause of PALS, and it is something I believe in strongly," he says.
His advice for aspiring lawyers centralizes on taking advantage of opportunities that will allow them to grow. "Never turn down a conversation because you never know what you can learn from or share with someone," he says. "Try to assess your career goals annually, at least, and make sure that you develop short- and long-term goals that are realistic. I also know that it's never too late to pursue your dreams."
His passion for employee relations has come full circle. The New Jersey native had always desired to learn how law complemented so many facets of business, but during his second year of Cornell Law School, an employment law class sparked his interest. Ndumele sought an internship focused on employment law, but found little opportunity for employment law associates at the firm he joined after graduating from law school.
Instead, he focused on corporate securities work at New York firms Thelen Reid Brown Raysman & Steiner and K&L Gates, and several years at AOL. "I enjoyed the securities and corporate governance work because it provided me with the opportunity to understand the company's strategy, its vision, and how it shares financial results with investors and the public," Ndumele says. "But I never lost my interest in employment law and employment-related matters."
As a result of his increased responsibilities after joining Pinnacle Foods, Ndumele was promoted to vice president and associate general counsel in April 2016—around the same time that the New Jersey Law Journal selected Ndumele as one of forty-seven attorneys recognized by the annual "New Leaders of the Bar." Pinnacle has three corporate offices and sixteen plants, where Ndumele's interdepartmental initiatives impact roughly 5,400 employees across the United States. He works with HR representatives at each plant on disciplinary actions (terminations, suspensions, and investigations), handles all employee matters related to the US Family and Medical Leave Act, and reviews all issues stemming from Pinnacle's ethics hotline.
"For the last three years, I've completely stepped out of my comfort zone to take advantage of what I deem to be an excellent opportunity, and I want to continue down that path to never become complacent with the status quo," Ndumele says. "I am now able to work with more people across different functions within the company, and it consistently provides me with an opportunity to learn more about the industry and myself."
Ndumele also credits his colleagues' institutional knowledge for his ability to face all the nuanced issues in the packaged food realm. "Everyone here is intelligent and has valuable experience and insights, so I'm willing to learn from them as much as possible. And I'm also able to share my expertise with them," he says. "I appreciate their willingness to not only teach, but to learn as well. It's truly a collaborative experience."
While one other attorney has since joined the legal department, the team remains lean. Regulatory trends in the food industry require all Pinnacle attorneys to be aware of changing consumer preferences, in addition to the evolving statutory and federal laws. Ndumele cites Pinnacle's culture of "trust, candor, and ownership" as what allows them to play to each other's strengths, evaluate issues, and provide counsel.
To keep track of everything, Ndumele balances his ability to learn quickly with his practice of prioritizing certain tasks that he is more experienced with before handling new areas that can be more challenging. "We try to build in as much proficiency within the legal team as possible so that we're all relatively well versed in items that arise, but we can all leverage our specialties as well," he says. "Our constant goal is to stretch ourselves and make sure that all of us can be invaluable business partners to the organization, so we wear many hats."
Pinnacle is also subject to regulation by agencies, such as the US Food and Drug Administration and the US Department of Agriculture, which governs how products are labeled and the types of claims promoted. "We work diligently with our research and development teams and our marketing team to identify and vet issues before a product hits the marketplace," Ndumele says. "We have to monitor issues on a day-to-day basis to be successful."
Ndumele believes that a main force driving expansion in the food industry is consolidation, and acquisitions are an important component of Pinnacle's growth. It was then in January 2016 that Pinnacle expanded its health and wellness platform with its acquisition of Boulder Brands.
"As we continue to evolve as a company, I believe it helps our employees when we are able to address new situations or prevent issues from occurring in real time," Ndumele says. He adds that, while they have to make quick decisions, they try not to do so in a vacuum, and that they aim for a more in-depth policy review on an annual basis.
Often times, Ndumele's team has needed to refine or scrap policies, or develop more specific training to find a solution. "We lean on our plant managers and HR professionals to make sure that we have readily available information while using a common-sense approach to find teachable solutions not only for an impacted employee, but also for the employee base at large," he says. "Our goal is to ensure we are positively impacting the company and our employees while mitigating risk."
For example, Ndumele developed company-wide training on insider trading. He also leads an annual competency process for all employees to review the code of business conduct and ethics policy. He's learned that a consistent approach makes it a bit easier to assess and address a number of employment issues that arise: "A more informed employee makes for a happier employee—and that makes for good business."
Collectively, he says his legal team always strives to be better thinkers, business partners, and facilitators, so that they can continue to help Pinnacle achieve its goals for years to come. "Pinnacle has grown a lot in my almost three years here, and we aim to continue such growth," he says. "I'm excited about what the future holds."