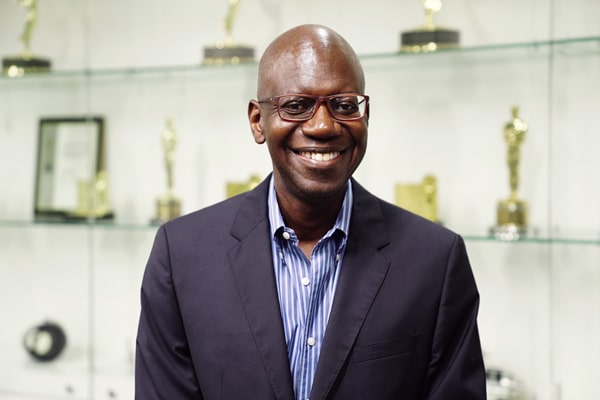 Derrick Boston's advice to any aspiring attorney is simple: "Put yourself out there and speak up based on what you know," he says. After all, that's what has taken him from Harvard University, to law firms, an investment bank, start-ups, and finally, to Panavision—an iconic motion-picture equipment company.
Boston joined the company in 2008 in a dual business and general counsel role. He works with just one other attorney and paralegal to manage all legal aspects for a company that does business in several major markets and on every continent. As chief legal officer, he has a myriad of responsibilities, which include corporate finance, mergers and acquisitions, intellectual property, and litigation. As a business development executive, Boston helps implement new business models and geographic expansion efforts. In 2014, he relocated to England for the majority of the year to take Panavision's rental model to Kenya and reach out to lower-budget productions.
"Put yourself out there and speak up based on what you know."
It's a broad and eclectic job for which Boston is uniquely suited. After earning a bachelor of arts in government at Harvard and his law degree from Harvard Law School, Boston started his career as a corporate securities attorney, becoming a partner at a major Los Angeles firm before stepping into investment banking. In 2000, he cofounded Timeskeeper, a company that provided calendaring software to small and medium-sized call centers.
As Timeskeeper's CEO, Boston helped secure investment dollars, manage software developers, find customers, run the day-to-day operations, and organize all aspects of the company's product launch. During this time, he first realized the potential in uniting his various skills and abilities.
"I was CEO, but I found myself using a full range of my business and legal backgrounds to structure deals and talk to investors," Boston says.
Three years later, Boston accepted a position as senior vice president of the California NanoSystems Institute where he spun out venture-backed companies and formed joint ventures between industry and academia to develop nanotechnology projects. That's when he met a scientist who helped him launch another start-up that was built around a high-tech fraud-prevention product.
While developing the start-up, he worked as a partner at a boutique corporate securities law firm. When the firm folded, Boston utilized his professional network to secure an interview at Panavision. Boston demonstrated how his unconventional experience could help the Los Angeles company, and more than eight years later, he says he knows the true value of his background.
"My different experiences have given me a lot of flexibility that you don't always get as a lawyer," he says. "I've developed traditional skills around precision, logic, and communication, but I've added high-tech and financial aspects that help me contribute in more ways at Panavision."
That background also helped Boston respond quickly and anticipate issues before they arise. Those skills are key at Panavision, because the company's small legal department handles various issues with internal partners, vendors, and outside lawyers in countless jurisdictions around the globe. In the past two years, in addition to handling day-to-day legal tasks, Boston and his three-person team helped Panavision refinance corporate debt and launch a major new product: the Millennium DXL motion picture camera.
Panavision stirred a lot of excitement at Cine Gear 2016, a conference to showcase the latest in entertainment and media technology, when the company introduced its first new motion picture camera in eleven years. The legal team played an important role in its development, as three leading companies—Panavision, RED Digital Cinema, and Light Iron—formed a unique partnership to bring the Millennium DXL to life. Panavision provided large format optics engineering; RED delivered its proprietary, high-quality sensor; and Light Iron introduced groundbreaking image-mapping technology that generates a cinematic look in-camera. 
Boston traces the camera's origins back to his company's acquisition of Light Iron (now a Panavision subsidiary), when he helped facilitate the behind-the-scenes agreements that got creative geniuses from each high-tech company to the table. After the merger, Panavision worked to implement Light Iron's unique postproduction workflow into its own camera systems. The important complementary service helped differentiate Panavision from its competition and positioned the company to survive and compete as the evolution from film to digital threatened to erode its core business.
A CLOSER LOOK AT PANAVISION
Rents motion picture cameras and equipment
Founded in 1954
Sixty-eight worldwide locations on six continents
Fifteen Academy Awards for technical achievement
Large format technology has supported Ben Hur, Lawrence of Arabia, 2001: A Space Odyssey, and The Hateful Eight
Developed the first completely matched series of lenses specifically designed for the film industry
That demand for a bigger, higher-quality picture came as major movie studios and producers angled to win business back from on-demand video streaming services such as Netflix and Amazon by luring audiences back into the theater. To develop the 8K technology needed to meet those demands, Panavision and Light Iron turned to one of their top competitors: RED.
Turning a leading rival into a key business partner is no easy task. Boston and his counterparts at RED communicated often and outlined key line items of an agreement that would allow RED to develop its own 8K camera while Panavision and Light Iron used RED's 8K sensor with exclusive specifications to fit the Millennium DXL's custom framework. Once lawyers from each company determined how IP interests would be shared and protected, Panavision secured exclusivity over the finished product, which designers tailored to match Panavision's accessories. Based on his previous roles, Boston says he knew he needed to inject himself into the Millennium's development as early as possible.
"Lawyers often come in when the business deal is done, but those deals may take years to form," he says. "We got involved early in this process, like we always do, to make the whole project go more smoothly from beginning to end."
With the major project nearing completion, the three-person legal team at Panavision is going strong, as each member uses his or her full background to execute against the company's overall strategic vision.