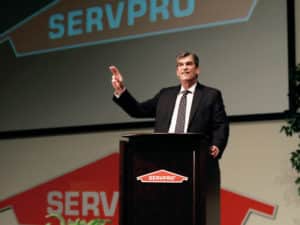 Devastating floods swamped Southern Louisiana in August 2016. Residents and business owners were forced to evacuate, and when it was safe to return, many discovered their homes had been destroyed or severely damaged. It was a terrible mess that left many wondering how to clean up, rebuild, and move forward.
Then, on August 18, Storm and Disaster Recovery Teams were deployed by Servpro—a pioneer in storm team disaster work and a leader in fire and water restoration—to help put the pieces back together. As a member of the American Red Cross Disaster Responder Program, Servpro was one of many partner companies that provided aid to thousands of people in the weeks that followed the natural disaster.
This is one example of the monumental work Servpro has accomplished since its founding in 1967. With more than 1,700 franchises in all fifty states, a 24/7 National Call Center, and proactive partnerships with state, local, and government agencies, Servpro's coverage network is second to none. And in addition to disaster recovery, Servpro also services individual homes and businesses damaged by fire, water, and mold.
Located right outside of Nashville, Tennessee, is Servpro's corporate headquarters, an advanced hub of resources for its network of franchisees. The 250,000-square-foot, state-of-the-art facility is also where Matt Preston, general counsel and corporate secretary, has overseen the company's risk and government affairs legal functions since he joined the company in 2012. He and his legal team of eighteen work to mitigate risk while driving the business forward in discovering effective ways of leveraging franchise relations to reach Servpro's goals.
Recently, Preston has also taken on overall leadership of Servpro's global franchise sales and development division, an area that he is particularly passionate about. While Servpro expanded into Canada in 2010 as part of a strategic growth plan, Preston is confident that the next phase of the expansion will take the company overseas.
"There is much opportunity and demand for our brand outside of the United States," Preston explains. "We've already seen a lot of interest, and we're now preparing to take the next step forward."
Based upon Preston's extensive leadership and international franchise experience with companies such as Yum! Brands, he is more than familiar with the requirements it takes for preparing to enter international markets.
So much of what we do is dependent on good communication. We need to set the vision, paint in the details and merits of that vision, and be extremely accessible to answer questions and lead."
"You need to deconstruct and rebuild your brand with its key elements, which means determining what is essential and nonnegotiable no matter where you go," Preston explains. "Then, you need to determine how to adapt the rest of the brand to fit each local market."
Along with determining which components of the domestic Servpro brand will go international, Preston and his team will ascertain which aspects should be adjusted, identify the countries that will be a priority to enter, and then solidify relationships with qualified and respected franchise partners within those countries. "Doing our homework is so important," Preston says. "The road is littered with franchise companies who've tried to go international and failed, and there are a lot of lessons to be learned from them."
But in the meantime, Servpro in the United States is made entirely of franchises owned by entrepreneurs who are the company's key business partners. "At the end of the day, we're all about helping entrepreneurs succeed," he says. "If they do, we do."
The key to that success is following the Servpro operating system. "We draw the outline and invite our franchisees to fill it in as they like. We encourage and appreciate differences between individual franchises, but we ask them to stay within the lines of the Servpro system because it's been proven, tried, and true," Preston explains.
As a result, this process creates a win-win situation for all parties and has enabled Servpro's impressive growth, poising the company for international expansion.
Positive turnover of the Servpro franchise system has also driven growth through a successful resale strategy—a valuable contribution Preston implemented several years ago. "Our brand has great value, and when franchises in the system have managed it well, they have a nice asset to sell when they're ready," he says. "There's a great demand for Servpro franchise businesses, and we offer a resale process and team of resources to facilitate a smooth and positive transition."
Preston has worked quickly in his four years with Servpro, having already established valuable programs and systems to improve company operations. He has also developed a strategic trademark enforcement program to protect the Servpro brand, which has experienced great success. And that is in addition to his establishment of a state-of-the-art litigation management program, which has been paying impressive dividends through a coordinated approach of applying management principles to repetitive litigation.
"When I see an opportunity to make changes that will bring improvements, I go after it," says Preston, who is a self-proclaimed, cautious change agent. "But ultimately, I have an excellent team, and that is what's most important.
"I'm a huge believer in building people and leadership capability," continues Preston. A company is only as good as its people and relationships, and Servpro is built and driven by relationships at every level—from franchisees to colleagues, national account clients, outside counsel, and executive leadership. "So much of what we do is dependent on good communication," he says. "We need to set the vision, paint in the details and merits of that vision, and be extremely accessible to answer questions and lead."
Preston provides vision, leadership, and strategy for his legal team and the global franchise sales and development division. He serves as counselor, strategist, and business partner to his executive colleagues. He cultivates relationships with franchisees and outside partners. But regardless of the role he takes on, Preston knows that his ultimate job is to empower each of these various teams and individuals to do what needs to be done to reach Servpro's vision of being the premier cleaning and restoration company in the world.
_____
Litigation Management Counsel:
"Matt Preston's genius is his ability to select and craft working relationships that focus all parties on achieving Servpro's goals in the most efficient manner possible."
—Bruce G. Tucker, Managing Attorney
_____
Patterson Intellectual Property Law:
"We have enjoyed working with Matthew Preston to protect Servpro's valuable trademarks and provide positive cash flow for Servpro. The knowledge and professionalism Matthew brings to his position makes Servpro an ideal client."
—Edward D. Lanquist, Jr., Managing Shareholder
_____
Waller:
"Matt has had a great impact at Servpro. He is engaged, engaging, creative, thoughtful, and intuitive. Hands on when needed; trusting his team when not. It is a privilege to be part of his team."
—Robb Harvey, IP Litigation Group Chair