It's a blustery Tuesday morning in Radnor, Pennsylvania, and Kirkland Hicks has lost his trash can.
"I just ran home for lunch," Hicks says. "It's a long drive through my community, and I happened to see this trash can in the middle of the street. Then, when I got to my house, I saw that the trash can I left at the corner this morning was no longer there. So I'm thinking that's probably my trash can, and I've got to go back and retrieve it."
It might seem strange to relate this exchange to how he built the current legal team at Lincoln Financial Group (LFG)—where he came on board as executive vice president and general counsel in December 2015, but there's a simple explanation. Hicks doesn't prefer to begin a hiring conversation with a deluge of legalese and overly technical questions. Instead, he opts for humor and conviviality.
"Hiring is more of an art than a science," he says, going on to describe a gut-check method for what has to do more with a person's communal pride, gratitude, and love for others. "What's really important is how people talk about their families and friends, how they talk about their mentors and colleagues, and those who have helped them along the way."
Hicks came to LFG from Willis Towers Watson, where he started as head of commercial law in 2000. By the time he departed, he was vice president, general counsel, and secretary. He was brought into LFG specifically to, in his words, "make a good legal team even better." He credits the welcoming and inclusive leadership of LFG's CEO, Dennis Glass, who has allowed him to hit the ground running right from the start.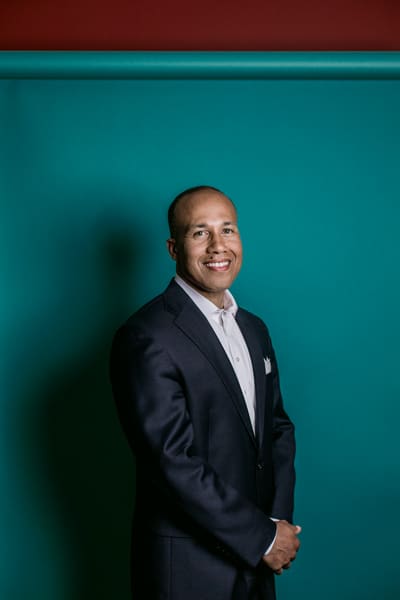 The first step was reassessing and reorganizing the management structure, so that those in key leadership roles—those who were already at the company and new hires alike—reported directly to him. Humor and conviviality notwithstanding, potential hires obviously need to have a considerable amount of legal experience and skill when working for a place such as LFG, a Fortune 500 company offering a range of financial services and solutions, with a central focus on life insurance, annuities, retirement plan services, and group protection. Still, the more humanistic side—compassion, friendliness, emotionalism—has its importance.
"What's really important is how people talk about their families and friends, how they talk about their mentors and colleagues."
LFG's outside counsel acknowledges this, too. "Many leaders can manage and set expectations," says John Martini, partner at Reed Smith. "What sets Kirkland apart from his peers is that he truly understands and appreciates people."
"He has an ability to see things from the perspective of others," adds Stacey Rappaport, partner at Milbank, Tweed, Hadley & McCloy. "That makes him a superb negotiator and problem-solver."
Hicks sought out this mixture of empathy and know-how when fortifying his legal team. He praises both the emotional and practical strengths of those new to LFG: the sensitivity and board presence of Andrea Goodrich, corporate secretary and head of corporate law; the innovation and cultural adeptness of chief compliance officer Steven Harris; the actuarial knowledge and people skills of Richard Spenner, head of litigation.
Hicks says all of these team members "have a life outside the walls"—something that's important to him, because caring for others is directly in line with the work that LFG accomplishes. "At Lincoln, we're redoubling our focus on the customer experience," Hicks says. "How can people get through the underwriting process more efficiently? The legal department is focused on all those issues, and it's also causing us to say, 'How can we improve the internal customer experience?' We're really focused on putting our clients first and finding ways to be innovative—creating additional value, if you will, with legal and compliance. I think that it comes back to that very first conversation I had with the legal team about moving us to the next level. I think we are making the right moves."
When discussing Hicks's outlook on team building, he is quick to credit the mentorship of Walter Bardenwerper, retired vice president, general counsel, and secretary at Willis Towers Watson. He hired Hicks the same way Hicks hired many of his current team members.
"That's why I took that job," Hicks recalls of his interview. "I didn't know a damn thing about an actuary. I didn't know anything about what an actuary did. I didn't know anything about the company. But I did say, 'I like this guy, and I'd like to work with him,' and that's why I took it." Hicks eventually succeeded Bardenwerper as GC.
"He believed in hiring me," Hicks says. "In my interview with him in 2000, we spent a lot of time talking about African-American history, which was one of the interests I had listed on my résumé. It was genuine. It wasn't superficial."
When Hicks interviews someone himself at LFG, he strives to have a similar discussion that he had with Bardenwerper, whom he still talks with to this day.
Having a mentor figure who cared about Hicks's own background and cultural interests also helped shape his views on the importance of diversity and inclusion in the hiring process.
"Representation is a consideration," Hicks says. "It's not the only consideration, but it certainly should be a consideration. Inclusion of different backgrounds, perspectives, and competencies are also considerations. People are attracted to places where they see people who look like them—where they will be included and be successful. It's one reason why Barack Obama is a historic president. He was important to African Americans. Growing up as an African-American kid, you always hear you can be whatever you want to be in life. But a lot of times, until people actually see someone else doing it, they don't really internalize that they could do it themselves. It was important that others could see an African-American successfully lead the greatest nation in the world.
"I was brought in to make a good legal team even better."
"That's why positive representation is important. But we need to go beyond that to inclusion and inclusive leadership. We are a life and annuities company. We have a broad customer base, and we want our team to look like the people we are selling our products to. So we start there."
Hicks recognizes that LFG has come a long way with D&I, but there is still work to do. For example, although four of the team members recently named to his leadership team are women, Hicks admits that, while LFG looked at a broad spectrum of people, "There isn't a wide range of ethnic representation that we thought fit the bill for the opportunities that were available, at least at the senior level. That's challenging. I won't pretend that it's not."
Nevertheless, the D&I conversation is a journey of reaching milestones and acknowledging success along the way.
"It's not a program. It's not a project, "Hicks says. "The end is for this to be just part of the way we do business. We have these same conversations with our outside law firms. We say, 'We don't want to be critical, but we want you to know that we pay attention to it. And paying attention means more than just saying you're going to pay attention to it.'"
To illustrate this point, Hicks reads a note that he just received from one of LFG's partners.
"While I like to think we would have been focused on the normal course in finding ways to involve diverse lawyers in our work with an important client like Lincoln," the note reads, "there is no question that our desire to be responsive to your priorities has put that issue much more top-of-mind and has created opportunities for some lawyers here to become involved with Lincoln more quickly—more to a greater extent than might have been the case otherwise."
Hicks pauses.
"I was pretty proud to get that," he says.
The letter isn't just a testament to Hicks's outlook on D&I, but his general empathy and relatability throughout the hiring process. He hasn't just built an outstanding legal team, but a team of wonderful human beings—something he believes should always be the goal at LFG.
There's still much to discuss on this—like Hicks says, it's an ongoing conversation. For now, though, he has to go rescue a trash can.
ACKNOWLEDGING A GREAT TEAM
Andrea Goodrich, senior vice president & corporate secretary
"When we were recruiting for that position, we wanted someone with board presence and who we thought would fit into LFG's culture. She is concerned about helping people in her community develop."
Abigail Pancoast, chief counsel
Abbie is a preeminent expert in her respective area and really defines the role of chief counsel.
Robert J. Bohner, Jr., head of employment
"He's not new to LFG, nor is he new to leadership, but he has visibility in the organization that he didn't have before. Having the team gel required a mix of old and new. Bob's a key person on the team."
Carrie Chelko, chief counsel
Along with Abbie, she has been on the front lines over the past eighteen months in helping us successfully navigate thorny regulatory issues. It has been a pleasure watching them both elevate their contributions to an enterprise level.
Amy Esposito, head of legal operations
"Amy was doing a similar role for HR, and I convinced her to come over to legal. She also used to be at Willis Towers Watson. I did not know her when she was there, but it still created an instant layer of trust."
Steven Harris, chief compliance officer
"We wanted someone in this role who would actually elevate the function by being innovative and creating new value through the role. But they also needed to be practical enough to implement new ideas that would actually work within LFG's culture."
Richard Spenner, head of litigation
"Like me, this fellow comes to us from Willis Towers Watson. He understands actuaries. That's not all we have at LFG, but certainly a lot of the litigation could revolve around actuarial issues."
Milbank, Tweed, Hadley & McCloy LLP:
"Kirkland is smart, thoughtful, and pragmatic. He has a knack for finding creative solutions to complex problems."
—Stacey Rappaport, Partner
_____
Reed Smith:
Great leaders build great teams! Kirkland Hicks makes it look easy with charisma, loyalty, and inspiration. We are proud to call him our friend and client.
—John Martini, Partner