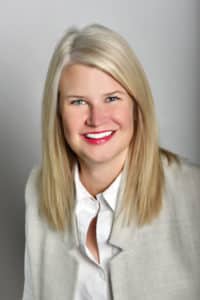 Melanie Bootes isn't known for setting up camp behind a desk. Instead, she prefers to walk the office aisles, connecting with a team she calls "small, but mighty." A good portion of that might is driven by her team's hard work and diligence, but those traits are also in large part a response to Bootes's own engaged and highly articulated leadership style.
"I think you have to be there and be present," says the chief legal officer for Kentucky Fried Chicken (KFC) US, which comprises roughly 4,200 franchise restaurants. "When you walk into the building, you don't head into your office and shut the door. You have to remain interested in the lives of your team members. You have to build relationships. People need to know you care."
This ambition for Bootes started back in grade school, when her teacher divided the class into two groups and had them debate about a current event. "I remember thinking, 'I can have a job where I get to be engaged with this,'" Bootes recalls. "Law school was something tickling the back of my consciousness as long as I can remember."
After graduating cum laude from the University of Louisville Law School, Bootes joined a law firm as a litigator. She worked there for three years before coming on board with KFC in 2003. Bootes quickly discovered that she preferred working as an in-house counsel, as opposed to arguing cases.
"I found that what I liked wasn't the arguing or the wordplay, but getting results, bringing together people with divergent ideas, and coming up with a solution," Bootes says.
Having found a home with KFC, Bootes designed her leadership style from the best (as well as the worst) leaders she's worked with during an eighteen-year legal career. As befitting the fried chicken chain, she apportions her approach at KFC into three "buckets."
The first is bravery—something she learned the hard way. As she describes, trying to be perfect early in her career hindered boldness.
"I thought I had to know everything and have all the answers," Bootes recalls. "But I realized that wasn't getting me anywhere or building the trust and relationships I needed to be effective. Perfection is unattainable, but bravery is not. I tell my team to embrace their fears and be courageous. They know that I do that as well."
The second bucket is truth-telling. Too often, according to Bootes, people engage in behaviors that stall or even derail their careers. And sometimes, they don't even realize it. When she sees these behaviors, she brings it to their attention, and she encourages everyone on her team to do the same. "Too often, people see things happen or people behave a certain way and they don't say a word," Bootes says. "I tell my folks that they need to invite truth-tellers into their life, because you won't be successful until you surround yourself with people you trust and respect who will keep you honest."
The final bucket is kindness, which some could assume is lacking in the stereotypical culture of a legal profession. "People in law tend to believe that in order to be effective, you have to be aggressive and in your face," Bootes says. "But we're going to get more in our professional lives, in our personal lives, and our relationships with franchisees if we're kind. That's something I'm big on."
Team members also need to know that their efforts are appreciated. KFC has what Bootes calls a "recognition culture." At office lunches and get-togethers, team members are singled out for going above and beyond. With her small team, she has one-on-one meetings with her lawyers every week to find out how things are going, what they're working on, and offers encouragement. She says constant recognition, big or small, is a driving force in helping to stay engaged.
"I want to know what people's teams are doing and how they're doing," Bootes says. "I want to know who on our team is doing something exceptional, who has their finger on the pulse of the culture in legal as well as the larger organization, and who might need a bit more love," she says.
"I've spoken about my career gaps and my confidence gaps and what I did to overcome them."
If there is an overall concept that Bootes always keeps in mind, it's one of authenticity. She doesn't hide mistakes she's made in her career. And she is always ready to share those errors with her team.
"I've reached the point where I try to be upfront," Bootes says. "I've spoken about my career gaps and my confidence gaps and what I did to overcome them. I think there's more worth in sharing those experiences than in trying to keep up a pretense that I've never stubbed my toe."
Bootes says that it is an honor to work for such a storied brand. She considers herself a steward of KFC and communicates to her team that each one of them has a responsibility to ensure they are representing the company in a passionate light.
"I believe strongly that you won't be successful if you don't create a culture of people first," Bootes explains. "I'm not an inventor of that belief. We not only walk the talk at KFC US, but across the entire organization. People are their best selves and do their best work when they believe they're respected for who they are and have the freedom to take risks. When we have that connection, then we're going to be all that much more successful."