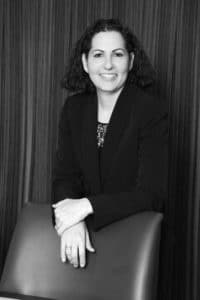 It wasn't the first time ITT reinvented itself. Throughout its near century-long history, the storied manufacturing corporation has undergone many seismic shifts in structure and culture—so much so that the CEO likes to refer to ITT's most recent evolution as a one hundred-year-old start-up.
This occurred in late 2011, when ITT split into three companies. Its water business became a publicly traded company titled Xylem Inc. Its defense business was spun out into a publicly traded company called Exelis Inc. (now part of Harris Corporation). The legacy of ITT itself remained, but it was the smallest of the three public companies. And getting smaller was no small task. Just ask Lori Marino, vice president, deputy general counsel, and corporate secretary.
Marino came to ITT in late 2013, about two years after the spin-offs. Prior to that, she was the head of the corporate group at Medco Health Solutions (where her final M&A deal was the sale of Medco to one of its competitors) and spent almost five years at Cravath, where she learned skills, savvy, flexibility, and adaptability that would later prove crucial. She started at ITT as the corporate secretary in what was described as a traditional corporate and securities role. But it quickly morphed into something different.
As Marino came into the company, ITT was still evolving post-spin, and the general counsel who hired her left a mere ten weeks after she had started the job. An interim general counsel was appointed to hold the role for three months before her current general counsel, Mary Beth Gustafsson, was hired in February 2014.
"While three GCs in the first six months is not what I expected, it gave me a great opportunity here," Marino says.
The hiring of Gustafsson proved to be essential and a catalyst for the change that the legal department needed. Over her first few months, she evaluated the department, set the strategy, and determined the structural changes needed to best support ITT's business model. Where ITT's 2011 three-way split had created a strong department of seasoned attorneys, the team wasn't optimized and aligned with the new, smaller ITT of 2014.
When these structural changes went into effect in July 2014—eliminating one-third of the attorney roles—Marino and her corporate group had to step up to the challenge and assume many of those responsibilities. These included M&A activity, contracting, labor and employment, and executive compensation.
At the same time, there was also an evaluation of the work being done by the HQ attorneys and the attorneys within the business units to understand where the resources were best deployed and what work needed to remain at the center. Her general counsel challenged her leadership team to evaluate their own teams and resources, while also helping define the rationale for the evolution of the department.
Over the next two years, Marino built her team, bringing in external hires, developing internal talent, and determining the best approach for handling the group's new responsibilities.
"I learned quickly that, on a small team, every single team member is critical, and I needed to empower the team and help them to realize their full potential," she recalls. "One of the positive aspects of reorganizations is that they allow people at every level to have new experiences more quickly than they would otherwise. That really helped us keep people motivated and engaged, even in challenging times."
"The evolution of our legal department also got a boost by ITT's culture journey, which was an initiative that was started by our CEO shortly after I came to the company," she continues. "Many of the principles that we have focused on through the culture initiative—including impeccable character, bold thinking, and collective know-how—have helped us drive a more change-resilient culture and use this time of significant transition and change to positively develop ourselves and our team."
In May 2016, ITT completed a major corporate reorganization (a project facilitated by Marino's corporate team) to streamline its legal structure and facilitate future growth opportunities.
"We continued to look for ways to optimize our legal structure, appropriately align responsibilities, and continue our focus on executing our strategy as a legal department," Marino says. "Now, we're about as lean as we could possibly be, and we've gone to a more generalist model."
The May 2016 reorganization eliminated the dedicated in-house litigation function as three additional attorneys left the HQ legal team. The plus side was that the remaining attorneys became jacks-of-all-trades as they integrated many of the former litigation team's essential duties. "There weren't enough attorneys any more to have the luxury of going deep on every issue," Marino says. "It's now even more important to prioritize the highest-risk areas and make sure that we are only doing the things that will drive the greatest value to the company. We also needed to not lose sight of our compliance mind-set and find ways to continue to drive a strong culture of compliance throughout the company, even with fewer attorneys. This was critical. We were not willing to sacrifice on this point."
Setting a tone for ongoing development across her team, Gustafsson expanded Marino's duties again as she took responsibility for all legal functional support, including corporate, litigation, global trade, and environmental. In addition, there were also compliance functions themselves, with the directors of global trade, ESH&S, and environmental affairs all reporting directly to her. As daunting as all of that sounds, Marino explains, "I've always felt like nothing about the law is rocket science. It just takes patience and discipline to figure it out like everything else."
Now, almost four years later and operating in a significantly leaner environment, legal support has been built out within the business units themselves. Likewise, resources have been allocated across the department in a more logical way.
"The hardest part about the last three years has been managing through all of the change—managing myself and my own energy and feelings, as well as leading a team of other professionals who are also directly impacted by all of the change," Marino says. "Seeing a number of smart lawyers, strong colleagues, and good friends leave the company has been very difficult professionally and personally." But through it all, Marino stays upbeat and keeps her group motivated.
Over the last couple of years, Marino faced hard questions from her team, who wondered how they would do all the work in a department that was a third of its former size. Echoing an operating principle that ITT's new leadership has worked hard to drive, she answers, "We've got to think completely differently about our work. We've got to find the work that really needs to be done, reallocate, and reprioritize. It's not going to be just you picking up another lawyer's work who isn't here anymore. That isn't sustainable. It's about transforming ourselves and re-inventing how we think about what we do." It's been a major shift in the department's mind-set, as well as how they think about delivering legal services and value.
Marino's current project is a perfect example of prioritizing and focusing one's energy on where they can deliver the highest value and where the need is greatest. She's currently in the midst of an intense and time-consuming litigation matter. "For us right now, this is what needs my attention the most," she says. "And so this is where I will be focused."
"We've needed to build tools around change management and change leadership," Marino continues. "We've been doing it by necessity over the last couple of years as all of these changes have happened. Now, this year, as our business continues to evolve in the face of changing market dynamics, we are being more proactive and intentional about building change-management skills within the legal department. This will help the team be more change-ready and successfully navigate change so we can continue to add value as business partners."
Although the work may continue to shift as time goes on, at this point, Marino feels that another significant restructuring is unlikely given the team's efficiency and focus. "But then again, I know well that the only thing that is constant is change," she says. And in the end, the evolutions have eventually led to triumph as a century-old company continues to transform.
***
Baker McKenzie:
"We have worked with Lori on many complex, multi-jurisdictional projects. Her no-nonsense, practical approach to navigating myriad legal issues makes her both an invaluable asset to her company and a pleasure to work with."
—Regine Corrado, Partner