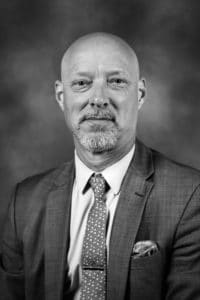 Peter Lahn is nothing if not humble. "I'm a pretty boring guy," he says. Lahn's personality—approachable, open, and straightforward—epitomizes the self-effacing, Midwestern modesty that helps his clients and colleagues feel at ease.
And that's important. Because as senior vice president, general counsel, and secretary for Grinnell Mutual Reinsurance Co.—based out of Grinnell, Iowa—he interacts with countless people and shoulders many responsibilities. However, he also has a hands-off management style that makes him especially suited to the challenges of a major rebranding at the company, currently in its final stages. The rebranding is part of a long list of current business initiatives for Grinnell, the largest direct reinsurer of farm mutual companies in North America.
In its 108-year-old history (founded in 1909), Grinnell Mutual has built a reputation of financial stability. In fact, A.M. Best has granted it an A rating for financial strength for thirty years running, and Lahn believes the new brand look and voice will help the company maintain that solid foundation well into the future.
"I'm just lucky I have good people. I just stay out of their way and provide them with the resources they need."
The decision to rebrand was followed by a great deal of corporate introspection and research before any logos or visual identity pieces were created. Senior leaders took a fresh look at the company's mission and vision, then reworked them to better reflect the heart and soul of the business. From there, the new mission and vision guided the branding decisions. The new brand also incorporates an alternate tagline, "Trust In Tomorrow," which encapsulates the company's core values of trustworthiness, integrity, and service.
Lahn's twenty-two-year relationship with Grinnell has given him insight into how the company works and what it needs during this rebranding process. Starting as counsel in 1995, he worked his way up the ranks, moving to senior counsel, then assistant general counsel, and associate general counsel. In 2014, he was named to his current position.
But even before his work with Grinnell, Lahn had considerable experience in the insurance business, starting in the 1980s when he spent five years as an underwriter and claim rep for State Farm. While there, he began taking night classes for law school in Baltimore. But after starting a family, Lahn decided to return to his home state of Iowa and start his position at Grinnell. His Midwestern roots run deep, and his work at Grinnell is an extension of that.
Given the complexity of the company's rebranding, Lahn primarily deals with addressing compliance and IP issues necessary for the task. The past year has seen him and his legal team work with the in-house Marketing and Customer Experience (MCX) department, as well as West Des Moines-based agency Meyocks to ensure that Grinnell's themes and branding are on point. The major goals of Lahn and his crew, then, involve poring over potential copyright issues, clearing marks for IP, and more. While much of the groundwork is complete, the process is "about 90 percent done, 90 percent to go," Lahn laughs. Fortunately, him and his legal team are surrounded by MCX and other business units that help coordinate this effort. "We were just a piece of the puzzle," he adds.
The complicated nature of compliance and IP legal issues require specialized expertise, according to Lahn. "It's something you don't want to just dabble in," he says. Despite his background as in-house counsel for an insurance company, Lahn "knew enough to be dangerous" with this category of corporate law. As such, he places a major emphasis on knowing when to bring in outside counsel with specific expertise to help align Grinnell's rebranding. There's a real value to getting in early and starting IP/compliance work on the right foot with the right experts, according to Lahn, "rather than down the road and getting bad habits and having them come in to fix it." He hones in on that process, including getting the right team members involved at the right time—not too early and not too late.
In addition to his own contributions, Lahn credits the work of his legal team and their outside counsel with helping to navigate the arcane nuances of US trademark and copyright law. As general counsel, he oversees a team of six lawyers, trusting them to do their job without too much interference from him. "I'm just lucky I have good people," Lahn says. "I just stay out of their way and provide them with the resources they need."
Lahn also attributes his successes during the rebranding to the open and communicative corporate culture of Grinnell. "Our CEO describes us as a 108-year-old new company," he says, "and it has a very flat management structure. People are not afraid to interact." The Midwestern work ethic of Grinnell's staff makes it easy to address problems with little anxiety. "If I want to talk to CEO Larry Jansen, I just walk into his office and say, 'Hey, Larry, here are my thoughts on this issue.'"
As Grinnell completes its rebranding over the course of 2017, Lahn hopes the whole process helps accentuate trust in the company from its customers. "We want the rebranding to evoke the essence of what we're trying to do," he says. "We want to remind people that we know they put their trust in us to reinsure, insure, and protect them. That idea of trusting in tomorrow is something we live by, and we want our customers to know we're living it."
---
The Great Outdoors
In addition to his hands-off management style, Peter Lahn drives engagement through regular staff meetings with his thirty-two employees. Many of these even include social outings such as kickball, outdoor lunches, and an intra-division ping-pong tournament. Of this, Lahn says, "I'm not claiming responsibility for it. I just have people who aren't afraid to say, 'Hey, this sounds fun, can we do it?'"