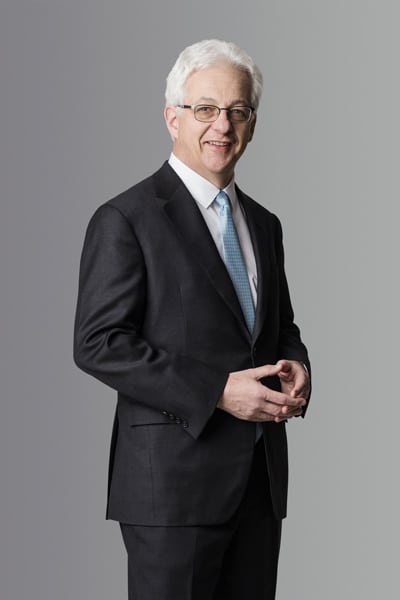 Here at Modern Counsel, we appreciate it when a complex merger or acquisition is discussed with digestibility. That's what happened in our recent conversation with Joseph Wayland, executive vice president and general counsel of Chubb, the world's largest publicly traded property and casualty (P&C) insurer. On July 1, 2015, it was announced that Chubb would be acquired for $28.3 billion by fellow P&C insurer ACE Limited, where Wayland was serving as general counsel. Once the two companies combined, the single entity took on the name of the former, and Wayland became a Chubb employee.
His relaxed demeanor makes sense when considering the scope of his career, which includes serving in the US Department of Justice from 2010 to 2012. During this time, he first served as deputy assistant attorney general, followed by a stint as acting assistant attorney general in charge of the Antitrust Division. "Just from that amount of responsibility, public service work certainly informed how I proceeded in the rest of my career," he says. Wayland isn't alone in this mind-set. Nicholas F. Potter, a partner at Debevoise & Plimpton LLP, says, "His experience in both the private and governmental sectors, coupled with a strong commitment to public service, have helped fuel his success as GC of one of the world's largest insurance groups."
What made Chubb the right kind of company for an M&A transaction?
ACE was always a growth company. We sought both organic growth and the right opportunity for an acquisition that would be complementary and further our strategy of diversification across product lines and geography. In the summer of 2015, our CEO Evan Greenberg focused on Chubb, which had been looked at from time to time. Early in the summer, we began the due diligence process, discussions with Chubb, and eventually announced the deal on July 1. The business process took less than a month, and then we had a remarkably quick time between the announcement of the deal and the transaction closing, which was in January. Six months was a very compressed time schedule that we were able to complete.
How did the two businesses complement one another?
ACE was more of a commercial P&C, large-account, broker-focused business, whereas Chubb was agency-focused, concentrating more on middle-market P&C and high net-worth personal lines. So putting the two companies together made a lot of sense in terms of synergies and the ability to complement each other's businesses.
Even though it was a good fit, were there any challenging parts of the M&A process?
It was challenging for me because I'm a litigator by background, and this was really my first significant M&A transaction where I was personally responsible for directing the legal work. We had some smaller transactions at ACE during my tenure, but we relied principally on our very strong corporate affairs group to manage those deals with minimal supervision from me. In the Chubb transaction, however, I was involved in negotiating the key terms and managing the regulatory and corporate process from the beginning to the end. That was a new and exciting challenge for me.
You also mentioned having to do some creative thinking in the wake of Brexit just in terms of compliance and regulatory matters. Could you speak a little more on that and its impact?
Brexit would have affected either company, regardless of whether we merged. The issue is the same for both: Any company that has its principal European subsidiary in the UK and is using a concept called passporting, which allows you to open up branches around the rest of the European Union (EU), must consider whether it needs a new corporate subsidiary in another EU country. That would allow the company to passport to the rest of Europe if they can't do it from the UK. That seems to be the working assumption for most companies. So we are considering whether we need a new home for our corporate headquarters in Europe.
Now that all is said and done, will you continue to focus on M&A work, or will your primary work once again be litigation?
I enjoyed learning and participating in the M&A process, but it's not something that will likely consume a lot of time on a regular basis. Those transformative transactions don't come along very often. Our smaller, more routine M&A transactions are handled largely on a day-to-day basis by our corporate affairs group and our outside counsel. Even though I was a litigator, much of my time now is spent in other areas such as regulatory issues, compliance, group management, strategy, business transactions, and corporate matters. In fact, the variety of issues that cross my desk are what makes the GC role so interesting.
What about the integration process for the two companies? Were you involved with the new Chubb brand and signature?
The branding process regarding the Chubb name and selection of a new logo and brand identity was really handled by our communications group. I was involved tangentially as a senior member of the executive team. I was, however, intimately involved in much of the integration process, including legal integration and regulatory approvals. We are a regulated business, and the acquisition required approval from both competition authorities and insurance regulators across the globe. I also directed the organizational integration of my own group and provided legal advice on integration issues for the larger organization.
How much work is still left to be done regarding the integration? Is there still a lot to do in terms of making it all feel like one company culture?
We've made tremendous progress since January 2016 in creating a common culture. We can seriously talk now about "One Chubb." At the beginning of 2017, we had a kickoff meeting for our North America business, and there was a very strong feeling of a unified company, of achieving "One Chubb" after a year of hard work. We actually think that came along quite quickly.
As a result of all of this, do you feel as though your day-to-day routine has changed at all?
At the core, we are still a multinational insurance company, and many of the activities and issues remain the same. But we're a much larger company with a wider range of business activities and many more people. So we have more complexity and a range of new issues reflecting our increased size and range. And world events, such as Brexit, present a constant set of new challenges and opportunities, so very little about my job is routine.
You've also talked about how you've loved making the transition into corporate law. What about it do you enjoy when compared to your past experience in the government and elsewhere?
I was a litigator with a lot of trial experience, which I enjoyed very much for a long time. When I was in government, I had a significant amount of management experience. I enjoyed the management challenges, and I enjoyed the variety of issues that crossed my desk as the leader of a large organization. I also enjoyed the international aspect of managing the Antitrust  Division, which included a wide range of contacts with international competition authorities. When I returned to international law firm Simpson Thacher & Bartlett, I missed the managerial aspect of the Antitrust Division. And I missed the variety of work, including the international work. So it was appealing to me to step into the general counsel role of a large, multinational corporation, and certainly one that had a lot of regulatory challenges after having been a government regulator myself for a while.
***
Axinn, Veltrop & Harkrider LLP:
Nothing is more rewarding for outside counsel than working with the smartest, most creative companies in the world. Joe holds the reins at the legal department of one of those companies and makes it look easy.
—Donald Hawthorne, Partner