Henry Hadad believes that successful intellectual property protection begins and ends with a strong team. Given the complexity of the pharmaceutical industry and the work that he and his team do to protect the intellectual property of the global pharmaceutical company Bristol-Myers Squibb (BMS), that isn't necessarily surprising.
Between navigating new technology, drafting and prosecuting patent and trademark applications globally, fending off patent challenges from generic drug makers and other innovators, and dealing with new twists and turns in IP prosecution, the senior vice president and deputy general counsel of BMS says he depends on a strong team to keep the company well protected and at the forefront of medical innovation.
In a discussion with Modern Counsel, Hadad illustrates the challenges of working in a highly regulated and unpredictable industry, and why no one person can navigate those waters alone.
When you talk about the work done at BMS, how would you describe the vitality of the role of IP to the company?
BMS is very much focused on inventing and developing new therapies for patients. The primary role of the patent team is to partner with our R&D colleagues to identify those inventive therapies and create intellectual property to protect them. We perform a similar vital function by partnering with our commercial, manufacturing, and regulatory colleagues to protect our brands through trademarks and other forms of IP. If that intellectual property were absent, new drugs could not be developed. IP is a very important aspect of our law department's practice and central to the company's mission of bringing new therapies to patients. If you look across the technologies, the biopharmaceutical industry relies most heavily on intellectual property to drive innovation and investment.
With that in mind, how does the company culture and organization play into the work your team does?
We view ourselves on a mission, and the behaviors that the company espouses—passion, speed, innovation, and accountability—reflect that. These are the things we focus on to ensure we're doing everything we can to assist patients, and those same qualities are the basis for how we practice law.
We have an exceptional group of thirty-three IP attorneys located in multiple sites in the US, Switzerland, and India. The IP attorneys are broken up into teams. Those focused on our therapy areas are led by Paul Golian, Barry Jacobsen, and Brian Walsh. Patent litigation is led by Scott Brown, while Regina Voegeli-Lange leads European IP operations, and Elisabeth Stewart Bradley leads the trademarks, copyrights, and brand protection practice. We also have a remarkable team of IP operations colleagues, led by Laura Caponi, that run the global business of filing, prosecuting, and maintaining our IP around the world.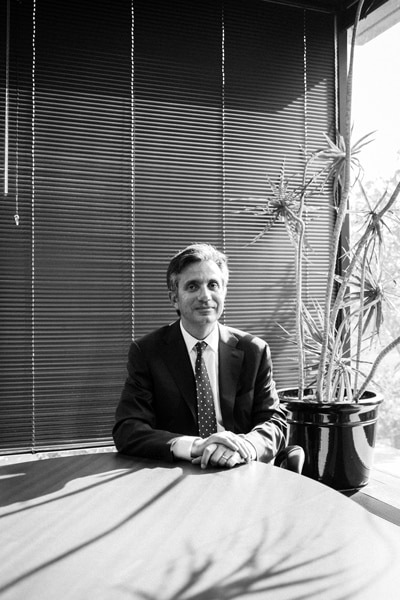 Do you find infringement a likelihood for which you constantly have to be on guard?
Given the stakes in this industry, it's inevitable that third parties will attempt to copy your inventions through infringing products. On the pharmaceutical side, there are established processes around the world that govern when and how your patents will be challenged by generic companies. The Hatch Waxman Act in the United States, passed in 1984, is one of the more well-known frameworks governing generic patent litigation. In the biologics arena, the advent of biosimilars—both in the US and globally—within the last few years has now added a new dimension in enforcement that previously did not exist.
In terms of developing this team, is it easy for you to identify the people that will be a good fit or do you find it's a mind-set that has to be culminated through continued work together?
I think it's a mixture of both. First, our goal is to foster a diverse culture of backgrounds and experiences that empowers our people to pursue innovative ideas and grow in an inclusive and energizing environment. This drives business performance and creates a sustainable competitive advantage for our company. We certainly look for those who have expertise, strong communications skills, and can lead projects through completion. As a manager, you hope to empower your colleagues, encourage collaboration, and set high goals. I'm very proud of our team and how well they work not only with each other, but with the clients and within the law department.
How would you say the evolution of BMS has changed the way the team operates?
In 2006–07, BMS made a strategic decision to refocus its efforts around innovative biopharmaceuticals and divest noncore businesses. This enabled the company to invest more resources into delivering transformational medicines—particularly in the biologics area. That focus has allowed us to become an industry leader in various therapeutic areas; I think the most notable would be the field of immuno-oncology, which is a completely new approach to treating cancer by harnessing your own immune system to attack the tumor. Only by that very disciplined and forward-thinking decision were we able to have the direction and the focus to get to this point. Similarly, when Sandra Leung became our general counsel around that time, she was very committed to creating a law department that aligned with its clients and intuitively understood our business and how we're evolving. These efforts have helped us anticipate legal issues facing our clients and proactively address them.
HENRY HADAD EXPLAINS NEW IP CHALLENGES IN THE PHARMACEUTICAL WORLD
Biosimilars: A biological medical product manufactured by a different company that is highly similar to an original product manufactured by an innovator company.
"The biosimilar patent litigation framework is very unclear given its recent introduction and the state of several different court decisions on some of the earliest biosimilar products," Hadad says. "Over time, that will likely resolve itself, along with additional guidance from regulatory agencies as to the standards for approving a biosimilar product."
Inter partes review (IPR): A procedure for challenging the validity of a patent before the US Patent and Trademark office.
"It was intended to be a cost-efficient and fair method of adjudicating the validity of patents, given that federal court litigation can often be lengthy and expensive," Hadad says. "However, rather than meet this goal, these inter partes reviews have effectively created additional parallel and serial challenges . . . it has increased expense
and uncertainty, and some have raised concerns that IPRs have been implemented with an eye toward a
speedy resolution at the expense of due process. This is an area which I think requires further development in the courts, the USPTO, and potentially in
the legislature."
You previously told me that this is an industry in which you find yourself "betting on the future." Can you expand on that a little?
It can take more than a decade to bring a drug to market from when it was invented. Billions of dollars might be spent on an individual drug that eventually is approved by the regulatory authorities, with countless failures along the way. Once the drug is approved, at some point thereafter in the US and around the world, the patents will be challenged, because if it's a successful drug, there are commercial incentives to do so. When you do the math, you're looking at a timeline of fifteen or more years. That's a lot of time. Technology changes, laws change, new legislation comes out, courts might have a different view of things than they did fifteen years ago. As IP professionals, when we're drafting and prosecuting the patent application in the very early days, we have to attempt to anticipate how those changes may break globally to provide the strongest possible IP protection.
I would imagine that's also why issues such as patent reform have such reverberating effects?
Anything that generates additional uncertainty and unpredictability in terms of the investment you make in innovation threatens to undermine the innovation itself. Let's say someone offers to sell you a plot of land to build a factory and employ people, but you're told that at any given time in the future, there's a significant likelihood that land will be taken away from you. You might question whether you want to make that investment and buy the land in the first place. I think that analogy is true for intellectual property. As the ability to actually protect your innovations becomes more uncertain or diminished, the ability to invest and innovate becomes diminished as well. As IP professionals, that's something we continue to manage.
As the law becomes more "flexible," standards are less clear as courts weigh in on evolving legal doctrines. Something like patent reform or other changes to the law can have significant reverberations if not handled in a thoughtful way.
Do you find the constant challenges and uncertainty frustrating?
No, but it makes the practice very dynamic. I think my number one concern is ensuring we have a healthy system for creating new therapies while also promoting access for patients in need today. Anything that upsets the delicate balance of that ecosystem threatens the innovations that treat us today and the generations to come. We have to ensure that the system maintains its overall balance and that new therapies continue to be created.
What would you say is the best part of the job for you?
Working with members of the IP team, and assisting in their career development. Helping colleagues find out what they're passionate about and empowering them to succeed. We are an important part of BMS. We've seen a lot of success and, frankly, a lot of challenges. But that goes with the territory. It's what keeps the job interesting and it's what keeps the team engaged.