"Then. Now. Forever." That's the slogan of World Wrestling Entertainment (WWE), and it echoes the company's belief that professional wrestling will always be part of the sports entertainment landscape. As streaming services have changed, or perhaps even taken over the television industry, WWE has focused on the "forever" part of its slogan by launching new ways to reach fans.
The Stamford, Connecticut-based global entertainment company began working on a new model several years ago as its leaders determined how they could best deliver their premium content to fans.
That consideration culminated in the launch of WWE Network, a subscription-based, direct-to-consumer service that gives fans access to 24-7 programming, live pay-per-view events including WrestleMania, and a video-on-demand library with nearly 5,000 hours of content. WWE Network operates as an over-the-top (OTT) content provider, similar to Netflix, Hulu, Amazon Video, and MLB Network. The OTT model allows WWE to develop deeper connections with its customers.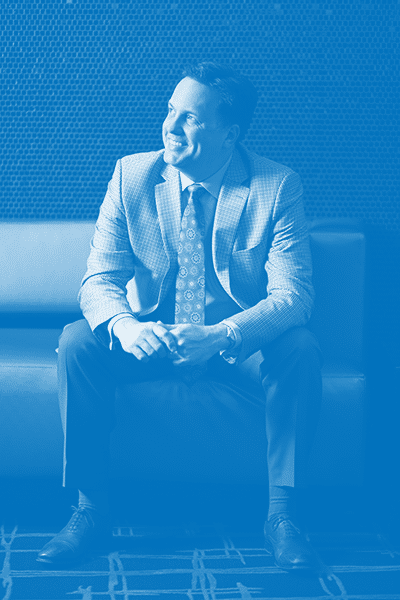 While this launch improved how fans consume WWE content, it also created new regulatory issues for the company's legal team. Blake Bilstad, WWE's senior vice president, general counsel, and secretary, helped the company adjust to this shift.
Through the network, WWE now has access to subscribers' e-mails and billing information as well as their purchase patterns and how they interact with the product. Those advantages come with increased responsibility to abide by data privacy and consumer protection laws, Bilstad says. "It's a total transformation not only on the business side, but on the legal side," he says. "You have a totally different interaction with your customer. It's now direct as opposed to working solely with big-media broadcasters and distributors."
The legal work required to make the shift was very much tactical, he explains—contracting with technology firms to build out the infrastructure and figuring out the information technology rights, approvals, and international clearances. Luckily, WWE anticipated and prepared for its need to adhere to regulations that had never applied to it before. "That's exactly the reason why I'm here," Bilstad says.
Bilstad joined WWE in June 2015, less than a year and a half after WWE Network launched. "Rather than an architect of the transformation, I'm more of a by-product of it," he says. "There was a need from the business for a tech-savvy, consumer-focused approach to be addressed through legal." Bilstad leads a team of sixteen people in the business and legal affairs department, including eight attorneys. He's also in charge of fifteen human resources employees as the interim head of human resources. He brings more than twenty years of legal experience, including the last eleven years running legal and public affairs at Provide Commerce, an e-commerce company that includes ProFlowers, Shari's Berries, and other direct-model online retailers.
Like Provide Commerce, WWE is now in the direct-to-consumer business, which means it must focus on data privacy, consumer protection, and other related laws.
In addition to privacy compliance, WWE faces regulation by the Federal Communications Commission as well as the Federal Trade Commission.
"There was a need from the business for a tech-savvy, consumer-focused approach to be addressed through legal."
With access to subscriber e-mail addresses, WWE can now send promotional messages to its fans. That means it must abide by the CAN-SPAM Act, a 2003 federal law that regulates what organizations can and must say in commercial e-mails. It also requires organizations to allow recipients to opt out. Bilstad ensures WWE is following truth-in-advertising laws and Federal Trade Commission rules on advertising, now that the company reaches out to customers frequently via e-mail and other direct forms of communication. Before, the company would give its advertising content to other broadcasters to share with consumers, but now, WWE can engage its customers more directly.
Other consumer protection laws apply as WWE deals with subscriber and terms-of-use agreements, requests credit card numbers, and collects other consumer information. While WWE traditionally didn't have to deal much with these issues—except in its burgeoning e-commerce business—Bilstad says they're now a priority for the legal team going forward.
"Our goal is to have our fans from around the world subscribing to WWE Network and submitting their credit cards," he says. "We need to manage that legally and allow the business to grow as it wants to grow."
Unlike Netflix, which creates some content but mostly streams shows and movies it doesn't own, WWE owns all of its content, including intellectual property associated with its talent. The company creates story lines internally and even composes its own music. "I used to be in the digital music space, where we had the opposite problem: we were always licensing our content from other parties and artists," says Bilstad, who previously worked for digital entertainment pioneer MP3.com and Vivendi Universal. "At WWE, we have the luxury of owning our content."
THE FCC AND TV: THROUGH THE YEARS
1934

The Federal Communications Commission (FCC) is created to regulate the radio and telecommunications industries

1947-57

As television becomes popular, the FCC develops rules for broadcasters. It prohibits them from airing obscene programming and restricts indecent material. It requires broadcast political programming to be fair and balanced, though the fairness doctrine has not been enforceable since the late 1980s

1992

"Retransmission consent" rules allow broadcasters to require cable, satellite, and other paid television services to acquire permission and pay fees in order to air broadcast content

2014

FCC rules are updated to prevent broadcasters from teaming up to put "upward pressure" on cable and satellite programming costs
That advantage extends beyond US borders, since WWE doesn't have to worry about obtaining special licensing to show its content internationally. WWE Network is available in more than 180 countries and represents a growing portion of its subscriber base. Overall, it had more than 1.2 million paid subscribers at the end of 2015, with 23 percent from outside the United States.
WWE is a US company offering a US product worldwide, so it doesn't engage in localization efforts required of certain products and services. To deliver its digital product, the company isn't required to have people on the ground in all of these countries, which would require additional compliance work. "International laws are a moving target, and viewpoints differ on US companies offering services abroad, even if it's per US policy and US law," he says. "We always have to be mindful of whether jurisdictions are going to take a different stance with us on that."
The network transformation puts more of the company's assets at risk digitally, so WWE has increased its scope of antipirating efforts worldwide. The company created a new role within the legal department—that of a generalist dedicated to digital, technology, and network contracts.
Much of the work of WWE's staff remains business as usual, since the addition of the WWE Network doesn't significantly impact talent relations, live events, consumer product merchandising, corporate matters, government affairs, security, or other areas. But legal has seen a major shift in its focus and major concerns because of WWE's new product.
As more of the entertainment industry shifts to similar on-demand networks, much of their legal practices will depend on whether or not they own their content, Bilstad says. "If it's somebody who licenses their content, they're going to have a whole host of issues different and broader than what WWE had to deal with when it transformed," he explains. This specialization will be increasingly popular for lawyers as streaming redefines the entertainment industry.