Teddy Adams wasn't looking to leave a prestigious role at Norton Rose Fulbright. He'd made partner specializing in the firm's complex litigation and products liability trial division, a tenure that lasted two decades. But a colleague who he'd interned for as a summer associate during law school reached out to him, asking if he would consider joining Crown Castle's litigation department.
"I got this job through somebody I'd met twenty-five years before," Adams says. "You never know who you're going to encounter again and in what capacity. I think that's why it's important treat everyone you meet with respect and kindness."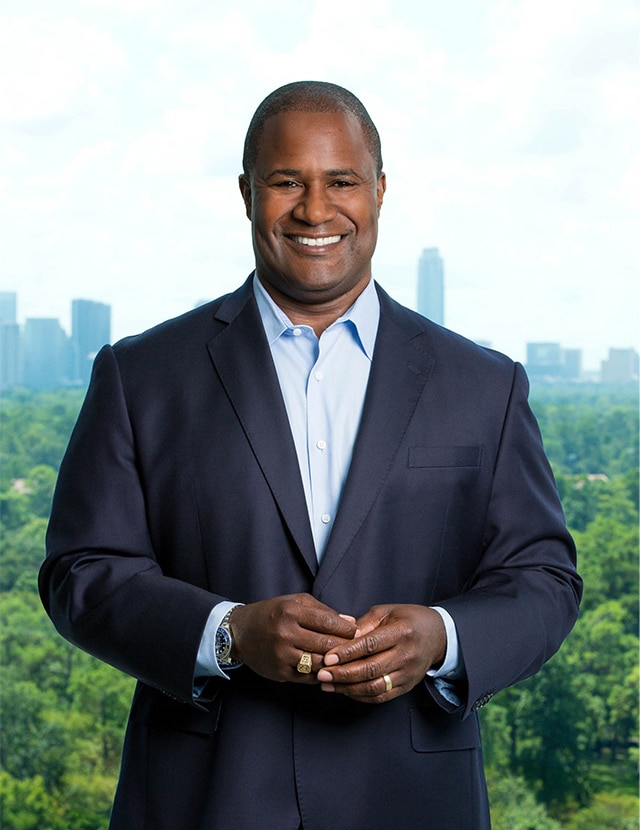 Adams says the decision to come in-house wasn't just a solid pitch from a fellow attorney. It was a chance to get to lean into some areas he had not explored in private practice.
"As you get more senior in a firm, you're getting paid good money to do the stuff you're especially skilled at," Adams explains. "The idea of going in-house seemed like a chance to get paid to learn about things I didn't know as well. That really appealed to me."
In February 2023, Adams took over as executive vice president and general counsel at Crown Castle, a real estate investment trust that owns, operates and leases more than forty thousand cell towers and approximately eighty-five thousand route miles of fiber optic cable across the US. If Adams wanted a chance to grow, Crown Castle was happy to provide an education.
He was suddenly surrounded by lawyers whose expertise had nothing to do with his own: telecommunications, real estate, M&A, procurement, tax, and public policy. The veteran attorney wasn't just there to do good work; he was learning from and leading fellow lawyers, tax professionals, insurance experts, and other professionals and helping them consider the larger organization in which they were operating. He was there to remove obstacles for others and manage risk in a manner that would help Crown Castle achieve its broader goals.
He admits it was a lot to get his head around, but given his latest promotion, Adams has clearly blossomed in an in-house atmosphere.
Humility and Grace
There are moments from Adams's early years that highlight the qualities that would make the budding lawyer a general counsel. First there was his willingness to do the hard work. During the summers during his undergraduate studies, he worked on the assembly line making computers at IBM. "My job was to run circuit board components through a machine that would bend their legs so that they would fit onto the board correctly," he remembers. "It was the lowest-level job there was."
Then there was the summer in a Frito Lay chip factory. The management training role required the young Adams to work with people who had been doing the job for years if not decades. In his words, he was a "dumb college kid" trying to help people do their jobs better. The college student knew there was no point in trying to charade as a know-it-all. Instead, he was honest, humble, and worked to establish relationships with those working hard jobs.
"I still think about that job a lot," Adams admits. "Whether it's in an office environment or talking to a jury or expert witness, there are so many people who know so much more than you do. Let them know you're not trying to 'big time' them. If you don't know what you're talking about, let them know. It'll go a long way."
Get Out There
For those who see Adams's career as one worth emulating, he advises treating people not just the way you would want to be treated but also the way that they want to be treated. And that kind of interaction shouldn't be happening while your feet are up on a desk.
"Opportunities come from places you don't expect, and they never come if you're just sitting in your office," Adams says. "Whenever you get invited to those rubber-chicken dinners that you don't want to go to, or that lunch that you think you'd be better off billing another hour of work, you have to go. Say yes to opportunities, even when you'd rather be doing anything else."
The GC says whether it's an opportunity to watch a colleague negotiate, handle a dicey client interaction, select a jury, or deliver an opening statement, just do it. You will undoubtedly learn something that can be applied to your practice, even if it's just to confirm your belief that it's something you never want to do again.
Adams has only been in his newest opportunity since February 2023, and says he'll call himself new through at least February 2024.
"Right now, I'm just spending a lot of time thinking about how I can make a spectacular group even better," Adams says in his August 2023 interview. "I think that means working together, having candid conversations, and identifying what we know we're doing well and where we might be able to improve. But I also just spend a lot of time feeling blessed to have such a wonderful team tackling these issues."
---
Teddy Adams Finds Time to Serve
Along with supporting a Fortune 500 company, Crown Castle's Teddy Adams also finds ways to give back to his community and his alma mater. He's served on the board of trustees at Rice University for eight years and is now a trustee emeritus. Adams also is on the board of directors for Memorial Hermann Health System.
Most recently, Adams joined the board of Houston's branch of the Coalition for the Homeless, a nonprofit that provides resources and support to help those experiencing homelessness find permanent housing. The Houston Coalition has helped over twenty-eight thousand people find housing since 2012.