It's rare that a parent will feel like their child is too driven, but that's exactly what Karissa Cottom's mom would sometimes worry about while her daughter was growing up in a small town in southwest Kansas.
"It would drive [my mom] crazy when I was little because I was always a perfectionist in everything I did," says Cottom. "I think I've loosened up a little bit, but my drive is still there."
Cottom's drive has helped her achieve success as the managing attorney of corporate litigation and IT for the Williams Companies in Tulsa, Oklahoma, where she has built a robust in-house team for the energy company since joining five years ago. But it has taken a lot more than mere drive to carve out her path. Rather, it's her compassion and team-player intensity that have come to dominate Cottom's career.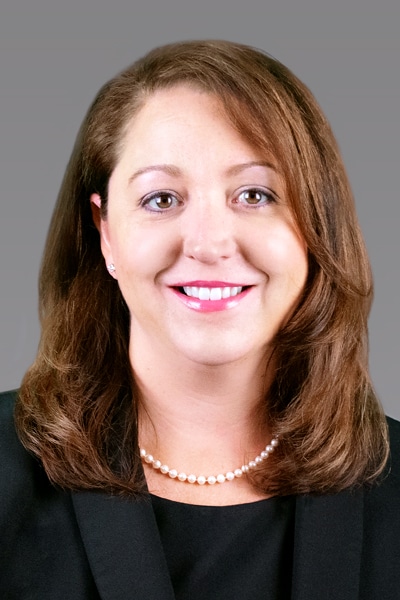 "Karissa is an accomplished litigator who honed her strategic skills in the trenches," says Tristan Duncan, a partner at Shook, Hardy & Bacon. "As a result, her leadership has proven remarkably efficient, ensuring a high degree of success and collaboration among her teams."
Cottom first sensed that she had an affinity for law after she flourished in a college logics class. "It really piqued my interest, and someone said, 'If you're good at logic, law school is really something you ought to think about.'" As soon as she began considering a legal career, she immediately recognized that litigation was where she would shine.
"I liked public speaking, and I liked getting in front of people and developing strategies and putting the pieces of the puzzle together on a case," she reflects. "And so I knew even before I went to law school that litigation was what I wanted to do."
She chose Baylor Law School for its hands-on trial program and, upon graduation, landed an associate gig at the Dallas firm Hughes & Luce (now K&L Gates), where she embraced a strong comradeship with her fellow attorneys. "It was a close-knit group of almost two hundred attorneys," she says, laughing.
But her desire for community shifted closer to home within six months of joining the firm, when 9/11 rattled the entire country. She realized that she longed to be near family and friends in Tulsa. "It just put a new perspective on my life," she says.
Finally settled in the spot where she wanted to launch the rest of her life, Cottom's career really took off when she joined Hall Estill and began working on outside litigation for a firm client: the Williams Companies. She tried several cases for Williams, including a successful bench trial and another case with a $9 million jury verdict. This made her a natural fit when the company later had a need for an in-house commercial litigator.
However, shortly after Cottom joined the Williams Companies, the two other litigation attorneys departed, and she was left alone to build a team from the ground up. Quickly promoted to managing attorney, Cottom hired two attorneys to join her team of three paralegals. Recently, she welcomed a third attorney to her team, who specializes in cybersecurity and information technology.
"I'm not only the coach. I'm also a player."
"My paralegals have actually been with me all along, and I will give them the credit, because without them, I couldn't do the job that I do," she says. "They have been invaluable. They each have different expertise, whether it be legal hold, e-discovery, or just finding the needle in the haystack. They have made our team outstanding."
What has also no doubt made the team outstanding is Cottom's synergistic approach to tackling the work. "I'm not only the coach. I'm also a player," she says, explaining that when a high-stakes litigation matter comes in, it's assigned based on what is most logical and who is capable and available at that time—not on hierarchy or status.
"So I handle the litigation just like [the other attorneys] do, and that can be challenging at times—but I wouldn't want it any other way," says Cottom. "Because if you don't stay active and get down deep in the weeds with these cases, you can lose touch with reality. I've become a much better attorney and I'm a much better leader by doing the groundwork."
That approach extends to every aspect of her work, including how she collaborates within Williams and with outside counsel. "I always tell outside counsel who we haven't used before that we're not your typical in-house litigation counsel," says Cottom. "We are part of the team, part of the strategy, and we actually review and edit the briefing."
Cottom's outside counsel affirm her dual role as managing attorney and an integral part of the crew, ready to pitch in wherever she is needed. "Karissa exemplifies what it means to be a team player," says Andrew Ditchfield, a partner in the litigation department at Davis Polk & Wardwell. "She is a leader on strategy, but she also rolls up her sleeves and gets into the details."
Scott F. Lehman and Mark Steele, both shareholders at Latham, Steele, Lehman, Keele, Ratcliff, Freije & Carter, echo these sentiments. "Karissa is not just the coach but a member of the team," they emphasize. "Her ability to effortlessly wear both hats is an asset to Williams and makes collaborating with her enjoyable as outside counsel."
To further the company's ease with legal matters, Cottom is developing a litigation boot camp for those who aren't as familiar with the courtroom. "It's really for those folks who don't do litigation on a daily basis so that they can refresh every year, if they need to, or maybe every other year," she explains. "It's to help remind them of best practices that we've adopted around different concepts of litigation hold, discovery, strategy, and settlement—or even taking the case all the way."
"I've learned being the best doesn't mean you have to be number one. It just means being the best at whatever is needed at that point in time."
Outside of her litigation work at Williams, Cottom's drive and predilection for teamwork has found her a home at a number of nonprofits and community organizations over the years, including Youth Services of Tulsa. Back in 2011, her eyes really opened to the plight of homeless youth in Tulsa. She herself had young kids at the time and was startled by what she encountered in the community. She wanted to find an immediate way to help.
"It's something that I didn't see a lot of growing up because I was in such a small town," she says. "We didn't have homeless youth, so we didn't have places we could reach out to and support." After getting in touch with Youth Services, Cottom immediately got involved in the executive committee before rising to president of the board for two years. Volunteering there grew into a deeply meaningful experience. Seeing the youth whom the organization helped left her feeling useful and inspired.
"Being involved with Youth Services will always be a highlight for me," she says. "I loved every single board meeting I went to with that organization. I never felt like it was a waste of time."
Cottom has since taken a break from Youth Services to pursue new community work, this time with her daughter in tow. The two recently signed on with the Greater Tulsa National Charity League, a mother-daughter philanthropic organization that serves agencies ranging from Ronald McDonald House Charities to the Tulsa SPCA.
"I'd heard about the organization from some other moms and thought it would be a great way to introduce my daughter to community service," says Cottom. "It's important to have her see me make time to do this on top of working full-time and being a wife and mom, along with all the other demands that I have. I want to be a good role model for her, and I hope to create a passion in her for charity work."
Cottom admits that balancing work with family priorities and community service can be tough at times, but she credits her husband and friends with helping to make it all come together. Of course, there's also her relentless drive.
"I expect the best of myself every single day," she says. "I want to be the best mother, the best wife, the best lawyer, the best teammate. And I've learned being the best doesn't mean you have to be number one. It just means being the best at whatever is needed at that point in time."
***
Expertise Spotlight
Davis Polk is an elite global law firm with world-class practices across the board. Industry-leading companies and global financial institutions know they can rely on us for their most challenging legal and business matters. Our top-flight capabilities are grounded in a distinguished history of 170 years, and our global, forward-looking focus is supported by ten offices strategically located in the world's key financial centers and political capitals. With approximately one thousand lawyers worldwide, we collaborate seamlessly across practice groups and geographies to provide clients with exceptional service, sophisticated advice, and creative, practical solutions.
Davis Polk's litigators view matters through the lens of our clients' business objectives, drawing on the substantial experience of our firm across all major industry sectors. Our approach has created a long track record of success for our clients, at trial and on appeal, through motions, verdicts, and strategic settlements. Our broad-based litigation practice encompasses complex commercial, securities, and other civil litigation; white-collar criminal defense and government investigations; antitrust and competition; and intellectual property litigation.
***
Expertise Spotlight
At LSL, we believe that our success during the past twenty years is due, in large part, to our strong commitment to achieving results for our clients in as efficient and effective a manner as possible. If early resolution is in the best interest of our client, that is our objective. Resolution is not always an option or even possible, however, but with more than two hundred jury trials under our belts and experienced appellate attorneys, we are prepared to see any case to its ultimate conclusion.
In addition to our long-standing focus on effective and efficient representation, LSL firmly believes that its commitment to client service and its strong client relationships are key factors in its success and ultimately in the success of its clients as well.